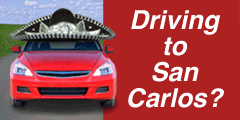 Driving to and in Mexico is easy and safe. Rules of the road are similar to the US and Canada.
One things to ensure is that you have Mexico Auto Insurance because U.S. and Canadian insurance policies are not recognized here.
Whether you're driving a car, truck, rv, motorcycle or rental car, make sure that you are insured to drive in Mexico. It's the law.
Extended coverage from a U.S. or Canadian insurance company will not satisfy Mexican legal requirements. You at least need "Liability Only" Mexico Auto Insurance coverage.
Without Mexico auto insurance, if you get in an accident you and your car can be detained. Also, you'll have no recourse if your car is damaged or stolen.
Carry in your vehicle proof of liability from a Mexican domiciled insurance company.
Mexico's main highways are modern, well-maintained and patrolled by the helpful Green Angels. Driving through Mexico is a great way to see and experience the sights, sounds and smells of this lively culture. Search for your favorite taco stand, find the coldest frothiest margaritas and meet friendly people. Charming colonial towns and vibrant beach-front communities await you.
Set out on your exciting Mexico driving adventure today — just remember your insurance.
Purchasing Mexico Auto Insurance
If you have any questions about purchasing car insurance for Mexico, you can talk to insurance agent Julie Akin, who lives in both San Carlos Mexico and in Tucson Arizona.
For a free online quote, visit Sanborn's Insurance. View and print your policy online. It's quick and easy. Sanborn's is the oldest and one of the largest Mexico insurance providers in the U.S. Sanborn's is an authorized agent who sells Mexico insurance in the U.S.
Check your Mexico Car Insurance policy for the following clauses:
Theft
Physical damage to the vehicle
Liability. Check who is covered. The insured only? Or anyone driving the vehicle.
Towing
Medical expenses — for driver and occupants. In what amount?
Legal assistance
Roadside assistance
and check the deductible
Book Your San Carlos or Guaymas Vacation Rental (with Booking.com)