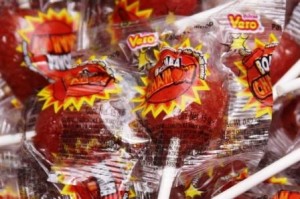 A budding poet, 15-year old student Mariel Llano is currently attending Colegio Americano de San Carlos. She plans to study creative writing at NYU. She has written many poems, including "El Sabor De México":
A Taste that can take you back in time
Isn't easy to find.
A Taste that reminds you of a hot summer day
And tanned skin, messy haired children
Running around, shoeless.
Sweet but at the same time, Spicy.
Like finding your most loved enemy.
It all fits inside this lollipop,
A Substance that compliments spoiled young tongues,
And brings sugars into your body.
Every lick, bringing you closer
To a bright blinding light.
And the anger coming from the spice,
Reminding you of an old man
That keeps a gun collection
Hidden in his closet
Growing lonelier and older,
Until lifeless.
Flavor remains on your tongue and lips,
After a while of it being dismissed.
Clinging in your mouth and
Hanging from your skin.
Like grandmother's fragrance
Her bottle of worries and tender sorrow.
Unused and forgotten Scent
Kept inside an ancient elegant bottle
Until wondering young granddaughter
Giving a lost bottle a chance for the first time
Falling in love with the fragile scent
Holding it in her colorless hands.
The taste won't leave.
Tingling in your mouth,
Almost like a sound.
Its delightful uniqueness,
That brings every young Mexican child
A weakness.