Esperanza Azteca Leap for Joy Concert, February 29, 2020
Enjoy a fun evening with Esperanza Azteca Sonora as they Leap for Joy on February 29 at 5:00pm at San Carlos Plaza Hotel.
The cost is 250 pesos.
Tickets are available at Vive Real Estate, Castaway Kids' Thrift Store and San Carlos Plaza Hotel.
Help support these talented youth while enjoying a beautiful concert.

Esperanza Azteca Retro Concert, March 24, 2019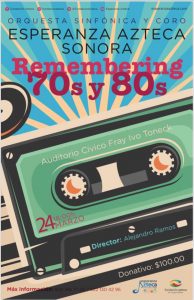 Esperanza Azteca Oldy's Love, February 17, 2019
Enjoy a beautiful romantic afternoon with retro music from the 70's 80's and 90's, don't miss the opportunity to relive love with such a majestic concert.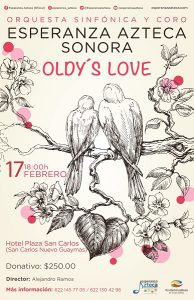 About the Esperanza Azteca Sonora Youth Orchestra and Choir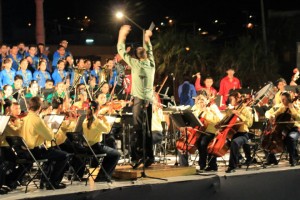 Read more about the Esperanza Azteca Sonora Youth Orchestra and Choir.
The "Esperanza Azteca Project" is a social initiative operated by Grupo Salinas' Fundación Azteca (Azteca Foundation), to improve the quality of life for youth in low-income and marginalized communities in Mexico through music. The foundation provides start-up money to buy all new instruments, music stands, chairs, paying teacher salaries, renting space, electricity, etc. for the new youth orchestra and choir. After one year, the program is to become self-sustaining through paid performances and financial support from the private sector and government.
Watch Esperanza Azteca Sonora Youth Orchestra and Choir performing the hallelujah chorus from Handel's Messiah (from their February 2014 concert at San Carlos Plaza):
The Esperanza Azteca Sonora Youth Orchestra and Choir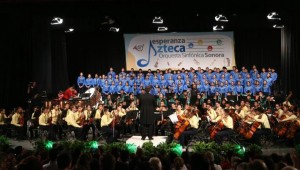 This project arose from the need to address and provide means of relief to some very real and serious social and human problems such as; poverty, personal despair, addictions, delinquency and lack of developmental opportunities. This project's mission is to offer children realistic and viable alternatives to fully develop their abilities, particularly their creative skills – be it a music career or  another career, to become successful members of society.
These children show over and over again that they know how take full advantage of a positive opportunity, making it imperative that we continue to invest in their education.
This project develops the character of their students through teamwork, discipline, the pursuit of excellence, solidarity, respect, honesty, tolerance, perseverance, boldness and courage. Through this project these youngsters are given the skills to learn to – respect and honor themselves and others and to understand and appreciate their own delightful uniqueness.
While no musical knowledge is required, students must demonstrate certain skills, such as rhythm, intonation and coordination. Seventy youngsters out of the 100 students in the orchestra had never played an instrument before.
Preference is given to students from low-income families. Children with disabilities are accepted.
The students practice 5 days a week, 4 hours a day after school.
Music is a powerful means for social change.
Esperanza Azteca Youth Orchestras and Choirs in Mexico
There are 54 orchestras in 29 states in Mexico, touching the lives of nearly 12,000 youngsters, their families and communities. The project also creates employment for approximately 800 music teachers.  The vision of the Aztec Foundation is to have 500,000 youth involved in orchestras and choirs throughout Mexico.
Each orchestra and choir has between 15-18 teachers and approximately 200 youth. One hundred will learn to play a musical instrument, while the other 100 hundred will develop their singing skills in the choir.
Please read what a few of the wonderful youngsters in the The Esperanza Azteca Sonora Youth Orchestra and Choir have to say:
Felissa, 12 years old, writes what Esperanza Azteca means to her – It is a fun way to express myself with music. It is a big family where I can talk, laugh, learn to play an instrument and have the opportunity to meet many people.
Mario, 13 years old, writes: It is something marvelous!  It has allowed me to change my life and I am proud of myself. My parents have supported me and I have been able to improve my grades at school. Because of this I am proud to be in Esperanza Azteca.
Fernanda, 16 years old, writes: I think the orchestra is one of the best things that has ever happened to me. Since being in the orchestra I have met many people and I am less shy. I have learned many things and most of all I am happy here because they are like a family.
Fabiloa, 16 years old, writes: For me, to be in the orchestra has completely changed my life. Before, I was wasting time or getting into trouble. To get into the orchestra, to go to the auditions, was a big deal for me. Even the first month of being here, I continued with my foolishness that didn't serve anything. Slowly I change my life. When I was little I wanted to study music but I left because I was scared. Now I realize that music is a lifestyle; it is the most important thing in my life. If it was not for the orchestra I would not be the person that I am now. I am a better person, a better musician – a person with free expression. It has changed me completely.  In a few words – if not for the orchestra I would not be happy.
To Donate: Castaway Kids has set up a special account for the purpose of receiving donations to help this program continue, with 100% of the funds donated in the name of Esperanza Azteca, the youth orchestra and choir, going to this program.
If you are writing a check please make it out to Castaway Kids, Inc. and on the MEMO LINE write: Esperanza Azteca or youth orchestra/choir.  U.S. donors can claim a charitable deduction on their income tax forms.
You can also go to castawaykidsmx.org and donate online. There is a PayPal feature with a 'MEMO LINE' – specify Esperanza Azteca/ youth orchestra and choir.
If you are giving cash please put it in an envelope identifying it as going to the youth orchestra and choir program.
Drop off Donations at Seaside Realty in Plaza Arrecifes on Tetakawi Blvd – a 'box' has been set up for the "Youth Orchestra/Choir."  I will personally be picking up the checks and cash and giving the funds to Alison Boyle, the assistant treasurer of Castaway Kids.  With the people overseeing the program Castaway Kids will receive a report as to how these funds are being used.
And of course, if you see me I'll happily take your money right there on the spot and give it to Ali to deposit.
Keep Exploring … San Carlos Mexico:
Where to Stay. Check out the options on Booking.com: