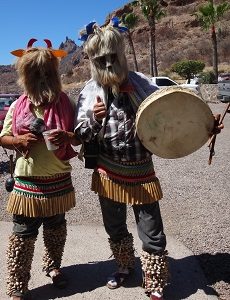 Easter in Mexico is steeped with tradition. One unusual ritual in San Carlos, Mexico is the arrival of the Fariseos (in English, Pharisees), starting on Ash Wednesday. In the Christian religion, the Pharisees were the ones who brought Jesus to the cross to be crucified. The Fariseos we see today are indigenous men who make a sacrifice during Lent by traveling throughout the region for 40 days, in order to ask for forgiveness from God or to receive a favor from Him.
There are two groups of Fariseos: 1) the Yaqui that come from the small towns along the Yaqui River in Sinaloa, and 2) the Mayo that come from the towns along the Mayo River in Sonora. Based on their costumes, the ones in San Carlos pictured are the Mayo Fariseos.
They are dressed in masks made of goatskin. Their shirts are made of carrizo (a type of bamboo reed). Mayo Fariseos are covered with blankets and often in white robes. They have leg bracelets made of dried butterfly cocoons and filled with small stones that make noise while walking and dancing around San Carlos. They wear Huaraches sandals and carry wooden sticks, rattles and drums. Sometimes their hands are painted red to represent the blood of Christ.
So, with this costume, they go from place to place, and city to city, dancing for money in order to buy food for themselves during their 40 day travels, and to use to celebrate Resurrection Sunday in their hometown. On that Sunday, they also burn the mask.
The unique thing about this ritual is that they never speak when they are traveling about. They wear a rosary and place the small wooden cross in their mouths, to remind them of the cultural and religious significance of their journey. So the next time you see the Fariseos coming around, why not give them a donation and wish them well.
by Sue Fehrle