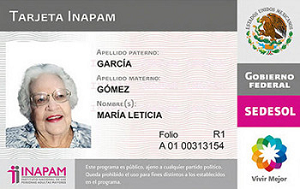 While some people dread the march of advancing years, people in Mexico actually have something to look forward to when they turn 60 years old – the INAPAM card. Once you become a card-carrying person of the "tercera edad" (third age), you are entitled to many privileges and discounts. And you don't have to be a Mexican citizen to get one!
The INAPAM (Instituto Nacional para las Personas Adultas Mayores) discount card is available to all Mexicans and foreign residents who have either a Temporary or Permanente resident card, who are 60 years or older. Just having a Tourist Visa is not an acceptable status.
It's simple and free to apply for the card. The card enables you to enjoy discounts on a range of goods and services including medicines, transportation, recreation and leisure activities. The program recognizes that retired people living on fixed incomes need financial support to help them keep their costs under control. Once enrolled, you receive a card that, when presented at businesses and government service agencies across Mexico, offers you potentially significant discounts of between 10% and 50% on goods and services you buy.
Here are some examples of the services that offer discounts:
Healthcare: Some pharmacies give discounts on medications (medicines are already much less expensive in Mexico than the US and Canada, and these discounts are in addition to the lower prices Americans and Canadians enjoy here), and some dentists and doctors and other medical specialists will also give seniors a discount.
Public Transportation: Bus companies such as Tufesa provide INAPAM holders with ½ price seats (book early though, as there are a limited number of INAPAM seats available per bus). Airlines such as Aeromexico and Interjet offer discounts for card holders, however you must be 65 years old to qualify for their 15% savings.
Leisure: Many hotels and travel agencies in Mexico offer discounts to senior citizens who present the card.
Culture: Many museums, archaeology parks, art galleries, and bookstores offer discounts to card holders.
Wherever you go, cinema, tourist attraction, etc., it's always worth showing your card and see if they will give you a discount.
Applications are processed, same day, at the DIF office in Guaymas (directions below).
You will need to have the original AND copies of the following:
-2 copies of your Driver's License or other official ID (i.e. Birth certificate). They accept copies of the front side of the card only.
-2 copies of the main page of your Passport.
-2 copies of your Residente Temporal or Residente Permanente card. They accept copies of the front side of the card only.
-2 copies of a Utility Bill with your Mexican address on it. For example, electric (CFE); phone (Telmex); water (CEA).
-Three color front-facing "infantile" size Photographs (2.5 cm by 3 cm). You can get these at the photo store in Walmart or at the photo store in the Ley Mall.
DIRECTIONS TO DIF:
INAPAM is a service of DIF and their office is located on Avenida 9 #4441 Colonia Centro (between Calle 11 and Calle 12). To get here, go along Serdan towards the Three Presidents Plaza. At Calle 10 (before the new Soriana's), turn right. Go along Calle 10 for a few blocks, and look for a school on the left side at an intersection (this is Avenida 9, but it is not well-marked. There is no streetlight here. This is one street north of the IMSS hospital on Calle 10). Turn left here, at Avenida 9. Go along this road, past the school (which will now be on your right), and park anywhere you find a spot on that street. Look for the glass door entrance to DIF, and go inside. You enter a courtyard and the INAPAM office is kitty-corner across the courtyard to the right.
The office is open from Monday to Thursday, 8:00am – 2:00pm. Once you are there, tell the receptionist you want to apply for the "Tarjete INAPAM". They will walk you through the process, however it may help to bring a Spanish-speaking person with you to help with the translation.
The process takes about 30 minutes, depending on how busy the office is. Usually one person sits down with you and goes through all of the documentation and creates a file, and then another person will actually make out the card, including your fingerprint (right thumb) on it. This is a lifetime card, therefore you do not have to renew it.
You may want to laminate the card at the Copias store on the same road just to the left of the DIF office on Avenida 9. You may also make your photocopies of the required documents at this Copias store.
You can find additional information online about the program and the application process on the INAPAM website. The page is in Spanish, and you can use the Google page translation feature if you need to.