Father's Day Specials in San Carlos, Mexico: Sunday, June 18, 2023. Where to celebrate Father's Day in San Carlos.
Father's Day at La Calaca, June 18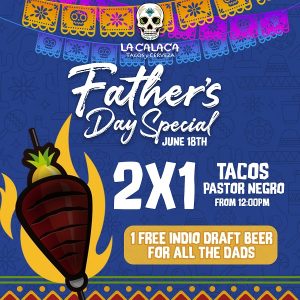 On Sunday, June 18, treat dad to tacos and beer at La Calaca restaurant.
For Father's Day, La Calaca will be serving 2 x 1 Tacos de Pastor Negro and a free draft Indio Beer (limited to one per dad).
This delicious meal will be offered from noon until closing.
Father's Day at Sunset Bar & Grill, June 18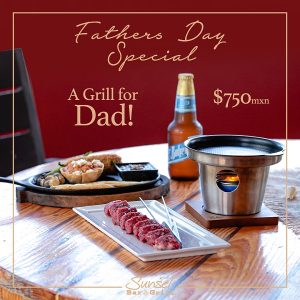 Celebrate Father's Day in style with Sunset Bar & Grill's special dish, exclusively for dads.
On Sunday, June 18, Sunset is offering a mouth-watering 200g Denver steak marinated in a delicious green tomato sauce that you can grill right at your table. Served with a side of flour quesadillas, jalapeño poppers, refried beans, grilled green onions, charred tomato sauce, and tortillas, this is a meal fit for a king – or a dad!
Don't miss out on this special Father's Day treat – reserve your table today.
For reservations, call 622-109-0003.
Father's Day Specials at Colibrí, June 18
On Sunday, June 18, celebrate Dad at Colibri's.
For breakfast, the special brunch menu for 275 pesos is:
* coffee, orange juice, chelado, or Bloody Mary
* individual fruit Hummingbird Salad
* choice of any breakfast item from our menu
And for dinner, the special for 495 pesos is:
* an appetizer of stuffed meatballs
* chicken parmesan with green salad or pasta
* chocolate tart with vanilla gelato for dessert
* complimentary house drink
For your reservation, call 622-115-3466.
Father's Day at La Catrina Restaurant & Gallery, June 18
Celebrate Father's Day all day long at La Catrina Restaurant & Gallery.
Join us for our special Breakfast Buffet from 8:00am – noon.
Or come in for lunch or dinner to savor our delicious menu items and specialty meals. Dads will receive a complimentary drink.
We'll have live music with Vino Tinto from 7:00pm – 10:00pm.
For your reservations, please call us at 622-123-2584 or 622-151-7798.
Father's Day at Tortuga's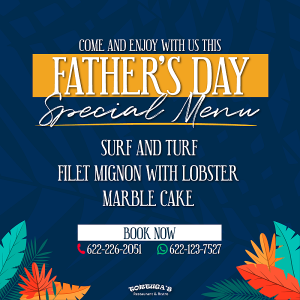 Dear friends and families,
We cordially invite you to join us at Tortuga's Restaurant Bar in San Carlos, Sonora, this Sunday, June 18, 2023 to celebrate the joyous occasion of Father's Day! It's the perfect opportunity to honor the amazing fathers in our lives and create cherished memories together.
Why you should join us:
Exceptional Dining: Indulge in a delectable culinary experience, as our skilled chefs prepare a diverse array of mouthwatering dishes. From succulent seafood to sizzling steaks, our menu caters to every palate.
Vibrant Ambiance: Immerse yourself in a welcoming atmosphere with live music and a lively bar, providing the perfect backdrop for a memorable Father's Day celebration. Relax and enjoy the company of loved ones in our cozy and inviting setting.
Breathtaking Views: Tortuga's Restaurant Bar is situated in the beautiful coastal town of San Carlos, Sonora. Marvel at the stunning views while you savor your meal, adding a touch of natural splendor to your festivities.
Special Father's Day Menu: We have created a Special Menu to make this day even more remarkable for fathers and their families. Treat your dad to an unforgettable experience and show him how much he means to you.
To ensure a seamless experience for you and your loved ones, we recommend making a reservation in advance.
Please call 622 226 2051 or whatsapp 622 123 7527 to reserve your table and guarantee your spot for this special occasion.
We look forward to welcoming you to Tortuga's Restaurant Bar and creating a delightful Father's Day celebration filled with love, laughter, and delicious cuisine. Let's make this day an extraordinary tribute to all the fathers who deserve our appreciation!
Warm regards, Tortuga's Restaurant Bar
Father's Day at La Zurda Beer Co., June 18
On Sunday, June 18, let's celebrate Dad at La Zurda Beer Co.
We are offering 3 x 2 on Pizzas all day. As well, dad's will enjoy a complimentary Rooster Crow beer.
Come and join us at La Zurda this Sunday!
Father's Day at HammerHead's, June 18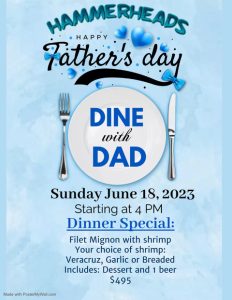 For Fathers Day, HammerHead's will be serving a special dinner featuring Filet Mignon and Shrimp. Your choice of Shrimp will be Veracruz, Garlic or breaded.
Dinner will include one bottle of Tecate Beer or a one Draft beer and a dessert.
Dinner will start at 4:00pm.
The cost is 495 pesos per person.
Father's Day at Blackie's, June 18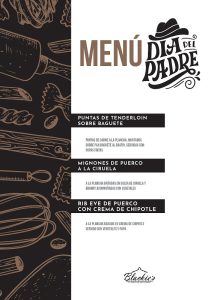 Blackie's will have several delicious meals to choose from for Father's Day. Treat dad to one of these dinners:
Tenderloin tips on baguette: grilled meat tips served on baguette bread au gratin. Served with French fries. 300 pesos
Pork mignons with plum. Grilled and bathed in plum sauce and brandy. Served with vegetables. 300 pesos
Pork ribeye with chipotle cream. Grilled and bathed in chipotle cream. Served with vegetables and potato. 300 pesos
Father's Day at Embarcadero, June 18

Keep Exploring … San Carlos Mexico:
Where to Stay. Check out the options on Booking.com: