Makin' It In Mexico: Recipes from locally available ingredients, by Shelly Johnson
Jen's Mexican Pineapple Fried Rice Recipe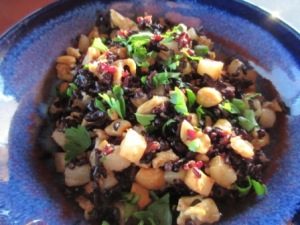 A visiting friend told me about this dish that she had at a restaurant in Thailand and they served it in a hulled-out pineapple and that sounded very cool. I'm not a huge fan of pineapple because it is too sweet to me so I added some zip to balance that out and I do love this dish. Thanks, Jen. I hope you enjoy my version. I'll make it for you when you are next in town.
3 teaspoons coconut oil
2 eggs, beaten
1½ cups chopped fresh pineapple (or canned)
½ cup green onions, green and white parts, thinly sliced
2 cloves garlic, minced
½ cup cashews, chopped
2 cups cooked and chilled white or black rice
1 tablespoon soy sauce
2 teaspoons hot sauce (like Sriracha)
1 lime
1/2 cup cilantro, chopped
In a cast iron skillet, add 1 teaspoon oil and heat over medium high. Add the pineapple, cooking until the chunks are lightly browned about 5 minutes. Add the green onion and garlic and cook another minute. Add the remaining 2 teaspoons of oil to the pan and add the rice and cook until the rice is hot, about 3 minutes.
Pour in the eggs and cook until the eggs are very lightly set. Add the cashews, soy sauce, hot sauce, and juice of the lime to the pan and cook for 1 minute more. Transfer to individual serving bowls and garnish with a sprinkling of chopped cilantro leaves. Enjoy!
Pretzels Dipped in Mustard Fish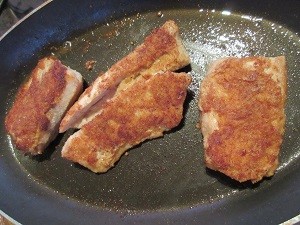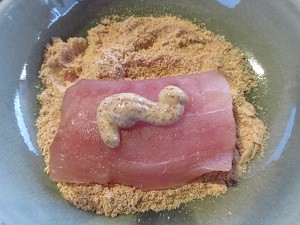 Besides peanut butter and pretzels, ok, maybe even chocolate and pretzels, there isn't anything better than mustard and pretzels. Let's incorporate this combo with fish.
4 TBSP mustard
1 c ground pretzels
6 fish fillets
Canola oil
Dry fish fillets on paper towels. Spread small amount of mustard on one side of fish fillets. Place fish fillet mustard side down into ground pretzels (I used a coffee grinder to grind the pretzels to the consistency of bread crumbs). Coat top side of fish with mustard and spoon pretzel grounds on top and press into fish. Shake off. Place in heated canola-oiled non-stick pan. Cook 2-3 minutes on each side until golden brown.
Nothing like a stadium snack with your main course, PJ was in heaven eating this while he watched the baseball playoffs. I will definitely try the peanut butter and pretzel combo with chicken next.
Scorching Summer Chicken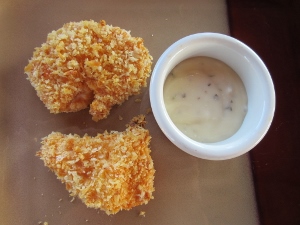 Here is crispy chicken that is baked, not fried, and that scorches your tongue to get your mind off our
sweltering summer weather.
2 boneless, skinless chicken breasts
1/2 cup flour
Salt and pepper, to taste
1 egg
1/8 cup milk
1/8 cup Franks hot sauce
3/4 cup Panko
1/8 cup peanut oil
Cut chicken breasts into 8 chunk size pieces or strips. Mix together flour and salt and pepper in a quart ziplock bag. In a separate bowl, mix together egg, milk, and hot sauce (you can omit the hot sauce if you prefer). In a third bowl, mix together the Panko and peanut oil (or whatever oil you have on hand).
Place the chicken pieces in the ziplock with the flour and shake to coat completely. Remove pieces and dip into the egg mixture, then pat pieces in the panko crumbs coating completely. Place pieces onto a baking sheet lined with parchment paper or a silicone baking mat. Bake in a 375 degree oven for 25 minutes.
Serve with something icy cold on the side; coleslaw….or a beer.
Colorado Chile Rellenos Hablan Espanol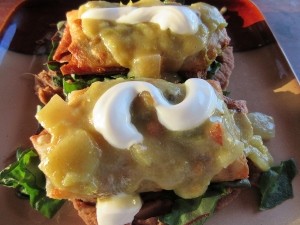 This is Part Dos of my Roasting Peppers and Chiles post; what you can do with those green chiles after you've roasted them. I always roast a lot of green chiles at one time, stem them, sometimes de-seed them and freeze them for quick use later. If I haven't de-seeded them before freezing I ALWAYS do this before putting them into a recipe (unless you are looking to burn your tongue, throat, lips, stomach off).
In almost every Mexican restaurant in Colorado there are Chile Rellenos on the menu. These are not the cheese stuffed pepper, dipped in egg batter and fried version. These have a Chinese influence (I guess) as they are chopped green chiles and grated cheese rolled inside an eggroll wrapper and fried. Now how do you suppose that mix in cultures came about? Especially in Colorado???? I can't answer that but I can tell you these are the best chile rellenos you will ever have. Once they are fried Coloradoans then smother them in green chile sauce. Really, there is nothing better and I have craved these since I was just a tot. Our first stop when visiting Colorado is ALWAYS to a Mexican restaurant where I can gobble these up and get my fill (until the next day).
Eggroll wrappers are not easy to find here. They used to be carried by the Santa Rosa market in Guaymas but, alas, no mas. So let's put our local spin on these to satisfy my craving by using flour tortillas.
1 package flour tortillas
1 1/2 cups chopped roasted green chiles
2+ cups grated cheddar cheese or any gratable Mexican cheese (I say 'plus' because you want a mixture that looks something like this…..)
Canola oil for frying
You want the tortillas to be really pliable so buy the freshest ones you can and then heat a few at a time in the microwave for about 15 seconds. Lay 1 tortilla on a flat surface and mound the chile/cheese mixture in the center. Working quickly, wrap the tortilla like an eggroll; bottom flap up first, sides in next, then roll onto top flap.
Place roll (flap side down) in a fry pan with about 1/4″ of hot oil. Fry until golden brown on the bottom and turn over with a spatula or tongs and fry on the other side until golden brown. Drain on paper towels on a plate.
Serve on a bed of refried beans and lettuce. Smother with green chile sauce or salsa if you want, maybe some crema or guacamole. Hi Ho Silver, Away!
Crab and Tomato Quesadillas
Ah, garden tomato season, what can be better? Besides eating so many that my husband and I have sores in our mouths, I'm constantly trying to come up with new ways to use them. We purchase crab meat from the vendors in Guasimas each October and vacuum seal and freeze it, and the combination of crab and tomato is outstanding, so I thought I'd give quesadillas a try.
1 1/2 cups (packed) grated cheese (I used Manchego)
2 tablespoons cream cheese, room temperature
1 tablespoon chopped fresh oregano
1 teaspoon grated lemon peel
1 cup (packed) crabmeat, drained
1 cup chopped tomatoes
1/4 cup chopped green onions
1 tablespoon minced seeded serano chili
Flour tortillas
Mix first 4 ingredients in medium bowl. Season to taste with salt and pepper. Mix crabmeat, tomatoes, green onions and chili in large bowl. Spread cheese mixture on a tortilla. Spoon crabmeat mixture on top of cheese mixture. Place another tortilla on top and press gently to smoosh. Spray cooking oil in an iron skillet and heat to medium. Cook quesadillas until cheese melts and tortillas are golden brown. Cut into wedges and serve.
Take Me Back to Southern California Carnitas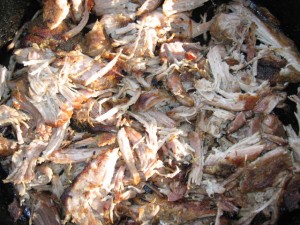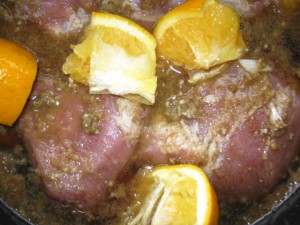 Cut the pork into 4 pieces. Mix together the garlic, cumin, and salt and rub into each piece of pork with your hands. Place the pork, 3/4 of the can of Coke, the orange juice and peels into a crock pot. Cook on low for 8 hours. Remove pork pieces from crock pot and pat dry with a paper towel (be gentle as the pork should almost be falling apart). Heat oil in an iron skillet until hot. Place pork pieces in skillet and fry on each side until brown and crispy. Add the rest of the can of Coke (use only Mexican Coke as this crystallizes better) and simmer until all liquid is absorbed. Remove bones (if any) and pull apart (shred) pork with two forks. Devour if you can wait long enough to get it on your plate.
There is nothing like Mexican food from Southern California. Yep, I'd have to say it is better than you get here in Mexico. I'm really surprised that crispy carnitas is not served here. Crispy on the outside, succulent on the inside, and so flavorful that you just want to eat it by itself and savor it. But of course, it is also delicious in tacos. The problem is keeping the meat juicy while creating that crispiness on the outside. I cooked this in a crock pot and then created the crispy outer in an iron skillet on the stove. Ask for cana de lomo (loin), pierna (leg), espaldilla (shoulder), or recorte (trimmed pieces) de cerdo (pork) at the supermarket or at the Kowi store in Guaymas (the pierna and espaldilla will be bone-in so you will need to remove this after cooking).
3-4 lb pork roast
1 head of garlic, minced
1 TBSP cumin
1 TBSP salt
1 can Mexican Coca-Cola
2 oranges, juiced and keep the peels
2 TBSP oil
Beer Brined Roasted Chicken
For those of you who would like to try Beer Can Chicken but don't have the space in your grill, try this oven roasting method. It is time consuming but very simple and the chicken turns out succulent and juicy.
1 whole chicken
1 c water
1/2 c salt
1 TBSP whole cloves
1 TBSP whole peppercorns
2 c ice
2 bottles dark beer
1 TBSP paprika
1 TBSP onion powder
1 tsp cumin powder
1 tsp cayenne powder
Heat water, salt, cloves, and peppercorns in a small saucepan until boiling and salt is dissolved. Add ice and stir until melted. Add beer. Place chicken in a large bowl and pour brining mixture over top, completely submersing chicken. Store in refrigerator for 12 hours.
Remove chicken from brine, rinse, and pat dry. Place in roasting pan in refrigerator for 24 hours (this will dry out the skin and allow it to crisp in the oven). Mix together spices and gently separate skin from meat and press mixture in between.
Bake in a 425 degree oven for 1 to 1 1/2 hours turning chicken over half-way through the roasting process so both sides crisp up. Yummy!
Roasting Peppers and Chiles
At most every grocery store in Colorado (or street corner) in the summer, you can smell peppers roasting from a mile away. There is nothing better than fresh roasted peppers. I don't understand why you don't see the roadside stand with the giant barrel roaster and fresh roasted green chiles available for purchase here. If anyone wants a business idea, I think this one would fly. Roasted peppers and chiles are the staple of any New Mexican or TexMex cuisine. Roasting peppers and chiles gives them a totally different flavor that is deep, rich, and hearty. Plus the smell of them while roasting is phenomenal. You can use roasted peppers and chiles in salsas, chile rellenos, eggs, enchiladas, etc.
Preheat your oven to 425 degrees. Lay the green chiles on a baking sheet lined with foil and lightly drizzle with canola oil or spray with cooking oil. By laying the peppers on foil, you will accomplish roasting them on both sides without turning them. Also the peppers will ooze once you start roasting them and the foil makes for easy clean up. Roast until blackened (see photo).The peppers may puff up and you can pierce the skin with a knife to let out the air if you want. Transfer the peppers to a bowl and cover tightly with plastic wrap or place in a paper bag and close up. This will allow the peppers to steam so it is easier to remove the skins. Once the peppers have cooled, remove skins, seeds (or leave the seeds if you want the flavor to be spicier) and stems.
BE SURE TO WASH YOUR HANDS AFTER HANDLING THE PEPPERS! Even after they are roasted, they carry a punch and you don't want to touch your eyes or mouth with fingers that still carry capsaicin on them – OUCH. You can chop the peppers or blend them for a smoother texture. Incorporate into a recipe immediately or freeze for future use.
Tortilla Soup
I guess someone else likes soup as much as we do as I've received a request to publish this recipe. Tortilla soup is hearty and satisfying and making it in the crock pot is easy**.
1 whole chicken
4 cups water
7 tomatoes, cut in quarters
2 green chiles, tops removed, cut in half
1 onion, 1/4″ slices
2 tsp cumin
1/2 tsp sugar
1/2 tsp salt
1/4 tsp pepper
1 TBSP fresh cilantro, chopped
1 avocado, sliced
1 cup queso cotija cheese
Place chicken and water in crockpot and cook on low for 4 hours. Remove chicken from stock, remove meat from bones, and shred meat with a fork and knife. Add chicken back to broth.
Place tomatoes, green chiles, and onion on a baking sheet and broil in the oven for 15 minutes (turning over once during cooking process). Transfer to a food processor and pulse until well blended. Add to the chicken and stock in crockpot, then add all spices, and cook on low for another 2 hours.
**Read this for a super easy version. If you don't care to de-bone a chicken after it is cooked in the crockpot, nor do you want to roast the vegetables, you could use boneless chicken pieces (2 breasts and 4 thighs). Place all ingredients except the last three in a crockpot and cook for 6 hours. Place small amounts into a blender and blend to your desired consistency.
Ladle into bowls and top with cilantro, avocado, and cheese. If you would like a thicker soup, tear soft corn tortillas in small pieces and add to soup during the last hour of cooking. Buen provecho!
Sweet and Salty Pasta and a Fizz
Figs are in season and if you are lucky enough to have a tree or know of someone who does, now is the time to pick and savor these luscious fruits (before the birds get them).
Besides just popping these in your mouth for a delightful snack, or putting them in ice cream or yogurt, how about a creamy, cheesy, salty, slightly sweet pasta? One of my craziest ideas yet, but it is really delicious!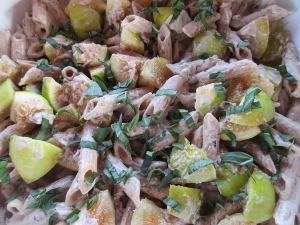 1 small package penne pasta
5 strips (about 1 cup) bacon, chopped
2 shallots, minced
1 garlic clove, minced
1 small box LaLa media crema
1 cup grated Parmesan cheese
6 fresh figs, quartered
1/4 cup torn basil leaves
Cook pasta in boiling water according to package directions; drain but reserve 1 cup of the hot pasta water.
Sauté bacon, shallots, and garlic in a large skillet over medium heat until bacon is crispy. Turn off heat and add cream, cheese, and hot cooked pasta to the cooked bacon and the grease left in the pan. Stir in 1/2 cup or more reserved pasta water until mixture is creamy. Toss in figs and basil and season with pepper to taste.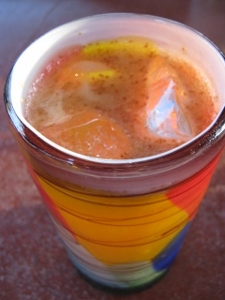 Fig Fizz Cocktail (makes enough for one)
4 small figs, sliced
2 TBSP mint simple syrup (recipe below)
1 shot vodka, bourbon, whiskey, or gin (whichever you prefer)
club soda
To make simple syrup; bring 1 cup water to a boil and add 1/2 cup sugar, stir until sugar completely dissolves. Remove from heat and add 4 whole sprigs of mint. When mixture is cooled, remove wilted mint. Store in the refrigerator.
Muddle the sliced figs with the simple syrup (the figs should really be mashed up). Add your liquor of choice, stir and strain into a highball glass filled with ice. Fill remainder of glass with club soda. Use the residual fig mashings over ice cream. I'm a freak for figs!
Jazzed Horchata Chiller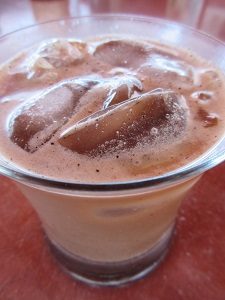 There is nothing we like better on a hot day than an iced coffee. So why not add some goodness like brown rice and almonds to make it a real treat. Now you can do this the easy way and that would be to simply mix already brewed coffee with almond milk and a pinch of cinnamon but hey, we have nothing but time, right?
1/4 cup brown rice (or white rice)
1/4 cup almonds, coarsley chopped
2 TBSP ground coffee
1/2 cinnamon stick, crushed
2 cups hot water
2 cups cold water
Sweetener of your choice
In a 1 litre container, add brown rice, almonds, coffee, cinnamon and hot water. Mix together, add cold water, and store in refrigerator overnight. The next day, pour contents into a blender and blend until mostly smooth. Pour through a fine mesh strainer (with a paper coffee filter if you are opposed to a little grit in your drink), add sweetener of your choice and liking (I added 3 TBSP of Hershey's chocolate syrup) and pour over ice.
Sip and feel the heat evaporating from your body and maybe you'll get through a warm afternoon without needing a nap.
Tangy Tomatillo Topping
Tomatillos are the Mexican version of a green tomato. To me, they taste like a cross between a green apple and a ripe red tomato. You can eat them raw or cooked, just like a gringo green tomato. This recipe is very versatile and can be used as a salad dressing or as a sauce for fish or chicken or even as a dipping sauce for veggies. We also used it on a crab tostada.
8 medium tomatillos, chopped
2 cloves garlic, chopped
1/2 cup unsweetened yogurt (using Greek style will make this thicker)
1 avocado
1/2 cup mayonnaise
2 teaspoons soy sauce
1/2 teaspoon pepper
1/4 cup packed fresh cilantro (or parsley)
1/2 teaspoon dried dill
Tomatillos come in a paper like husk and are kind of sticky underneath. Peel this husk off and rinse the fruit well. Place all ingredients in the blender and blend well until you have a somewhat smooth consistency. Enjoy this topping as you wish.
Herb Crusted Vegetarian Pate Recipe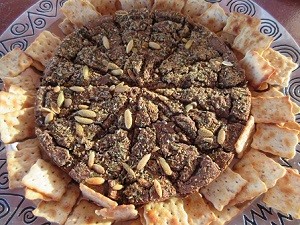 St. Paddy's Day this week is all about the 'meat', but what about those who don't eat meat? This is a nice vegetarian dish that can be served as an appetizer or as a main course.
1 1/2 cups cooked lentils
2/3 cup raw almonds
2/2 cup raw pecans
1 1/2 – 2 cups of water
1/3 cup nutritional yeast (you can leave this out, I just had it on hand)
3/4 tsp all purpose seasoning like Spike or Canadian Seasoning mix
3/4 tsp black whole peppercorns
2 Tbsp extra virgin olive oil
1/4 cup fresh grapefruit juice
Crust:
2 Tbsp roasted and salted pepita (pumpkin) seeds
2 Tbsp nutritional yeast (same note as above)
2 tsp dried Italian Herbs
Place your almonds and pecans with skins in a large bowl, cover with very hot water, and soak for 20 minutes. Place the soaked nuts, lentils, spice seasoning, nutritional yeast, peppercorns, olive oil, grapefruit juice, and 1 cup water in a blender. Start blending on high speed, pushing the top ingredients down to help incorporate into mixture. Slowly add another 1 cup water to make mixture very smooth and the consistency of Greek yogurt.
Take a 9″ round cake pan, preferably one where the bottom comes out, and sprinkle 1/2 of the 'crust' mixture to the bottom of the pan. Pour the blender mixture over this and then sprinkle the remaining 'crust' mixture on top. Place the pan in a 350 degree oven. Bake for 10 minutes, then turn the oven down to 250 degrees and bake for another two hours. Remove pan from oven and cool. Serve hot, warm or chilled, and cut into wedges.
Forget About It Crockpot French Onion Soup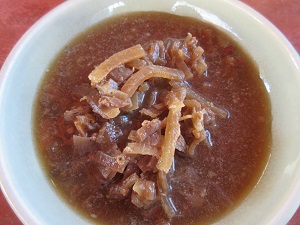 There is still time to enjoy some soup before our weather gets too hot. This is a soup that takes very little effort and the final result is super yummy! What makes it so easy is that you caramelize the onions in the crockpot prior to adding any broth. This way all the flavors of the onions develop and then when you add the broth, the broth takes on these flavors rather than diluting them.
1 large white onion
2 medium red onions
1/2 tsp thyme
1/2 tsp seasoning mix like Spike or Canadian
2 bay leaves (if you have them)
1 TBSP butter
2 TBSP oil
4 cloves minced garlic
3 cups beef broth
1/4 cup cooking sherry
Salt & pepper to taste
Peel onions and cut into quarters, then cut into slices about 1/4″ thick. Place butter, oil, onions, thyme, garlic, bay leaves, and seasoning mix into a crockpot and cook on high for 8 hours. Add beef broth, cooking sherry, and salt and pepper to taste, cook for another hour. Serve with croutons and melted swiss cheese on top.
Orange You Nuts to Cheese Me Fritters
Ricotta can now be found in most grocery stores here and I wanted to find something to do with it besides make lasagna. The orange curd I added to it was an afterthought but turned these fritters into something super tasty.
2 cups Ricotta (or Cottage Cheese)
3 teaspoons fresh mixed herbs (parsley, basil, cilantro, etc.)
1/3 cup pecans, coarsely chopped
1 teaspooon orange zest
1 clove garlic, minced
1 egg
1/4 cup seasoned bread crumbs (plus more for coating)
Non-stick cooking spray
Place the ricotta (or cottage cheese) in a fine mesh strainer and strain overnight to remove some of the liquid.
Combine the ricotta, herbs, pecans, egg, garlic, and bread crumbs in a large bowl. Place more bread crumbs on a plate or shallow bowl. Shape a heaped tablespoonful of the mixture into a flattened patty. Gently press in the bread crumbs to evenly coat.
Place on a parchment paper or silpat lined cookie sheet sprayed with non-stick oil. Spray the top of the patties with non-stick cooking spray. Bake in 350 degree oven for 15 minutes or until lightly browned. Serve with orange curd on top.
Orange Curd
2 teaspoons orange zest
½ cup sugar
½ cup orange juice
2 eggs
3 tablespoons salted butter, cut into pieces
Mix the zest and sugar together in a bowl and mash against the sides of the bowl with the back of a spoon. Add the orange juice, eggs, and butter. Mix together and pour into a medium saucepan. Cook over medium heat for 10 minutes or until thickened while whisking constantly. Cool completely. The mixture will thicken as it cools. Serve spooned on top of the fritters or over ice cream, or dip some cookies in it. Enjoy!
I Don't Like Brussels Sprouts Salad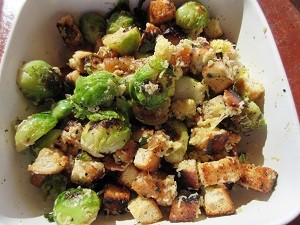 Yep, just like the recipe name says, you need to try this recipe even if you are one who claims 'I don't like brussels sprouts'. Really, the croutons, cheese, ate (or guava paste), and dressing pretty much cover up the taste of the brusslies. Brussels sprouts can be found at the Wednesday tianguis in Guaymas and the Sunday tianguis in Empalme right now. You can make homemade croutons or use store bought. Ate (or guava paste) is that thick jello-like substance you see on the specialty shelf in the grocery store (see photo). At Leys here in town it is next to the cheese area. Typically you use it by spreading it on a cracker with cream cheese (hey, that makes this entry 2 recipes in one, lucky you).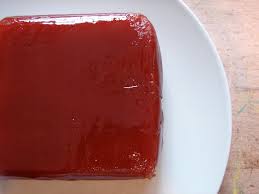 12 brussels sprouts, ends trimmed and cut in half
1 bolillo bread loaf, cut into 1/2″ cubes
6 TBSP oil
2 TBSP water
3″ piece of ate (or guava paste), cut into 1/4″ cubes
1/2 c finely grated machego cheese (feta or goat cheese would work too)
2 TBSP white wine vinegar
2 TBSP horseradish
1 TBSP dijon mustard
1 tsp agave syrup (or honey)
salt and pepper
I rarely toast bread or roast vegetables in the oven, I find that using a cast iron skillet is easier and faster.
Pour 2 TBSP oil into a cast iron skillet, add bread cubes, toss to coat cubes with oil and cook over medium heat turning frequently until toasted and golden brown, season with salt and pepper. Set aside.
Pour 1 more TBSP oil into same cast iron skillet and add brussels sprouts, toss to coat with oil and cook over medium heat turning frequently until golden brown. Add 2 TBSP water and put lid on skillet to steam brusslies. Turn off heat and let sit until all the water is evaporated. Place brusslies in a large bowl.
Mix 3 TBSP oil, vinegar, horseradish, and mustard together. Sprinkle ate (or guava paste) cubes over brusslies, add croutons, grated cheese, and pour dressing over the top. Toss well, season with salt and pepper if desired, and serve. I bet you'll like these brussels sprouts.
Fried Stuffed Celery

We can always find celery in the markets here. Is it always crisp and fresh? No, but here is a recipe to use it even if it isn't at its peak.
1 bunch celery, washed and cut into 3″ pieces
Cream cheese
2 cloves garlic, minced
Small bunch of cilantro or parsley, finely chopped
1 Jalapeno pepper, seeded and minced
3/4 cup flour
1 cup cold sparkling water
Oil for frying
Mix together cream cheese, garlic, pepper and herbs. Fill celery pieces with mixture. Whisk sparkling water and flour together to the consistency of making pancakes. Heat about 4″ of frying oil in a saucepan (or use a deep fryer). Using tongs, pick up a piece of the celery and dip into the batter, shake off excess batter, and gently lower into the hot oil. Cook for about 6-8 minutes until slightly brown in color. Remove from the pan and place on paper towels to drain. Enjoy!
Miracle Moringa Booster Bites
Last November, Kristina Ladau introduced us to Moringa trees — read full article here.
Based on her article and information, we decided to plant some Moringa trees of our own. We obtained seeds from pods from grown trees and planted these in small pots. They sprouted within a week. After about 6 weeks, they were 8″ tall so we transplanted them into the ground. To our amazement, in less than 6 months they are over 6 feet tall! They are beautiful trees and we are looking forward to them providing shade for us to sit under next year.
Kristina also explains the uses and health benefits of Moringa trees; the entire plant (except the roots) is edible. So with my crazy thinking, I started to come up with recipes to use every part of this miraculous plant. My first experiment are these no-cook energy bites. The weather is so hot now that I certainly don't want to be adding to the heat by having to cook, and I thought my early morning pickleball group might enjoy the boost of energy Moringa provides.
How to dry Moringa leaves:
Pull leaves from a Moringa tree, wash and dry.
Place leaves in a bag made of tulle fabric (lacy fabric used to make veils available at Parisina fabric store in Guaymas); loosely roll up a 12″ square piece of fabric, tie one end with a 12″ piece of string, place Moringa leaves inside innermost roll, roll up outer edges of fabric, tie open end with other end of attached string.
Hang bag indoors for 2 weeks.
Remove leaves and grind using a mortar and pestle or coffee/nut grinder.
Recipe for Moringa Booster Bites

2 cups Special K cereal
1/3 cup crunchy peanut butter
1/4 cup agave syrup
1 TBSP cocoa
1 tsp vanilla
1 tsp dried Moringa leaves
Place Special K cereal into a quart ziplock bag, remove air, seal closed, and pound with your fist on the countertop until cereal is coarsely ground. Place in bowl and add remaining ingredients. Place mixture in freezer for 10 minutes. Remove from freezer and with lightly moistened hand, squeeze into balls a little smaller than a golf ball (at first the ingredients won't seem to be adhering together, keep tightly squeezing your hand into a fist around the mixture and it will form into a ball). Place formed balls into a shallow tupperware container and store in refrigerator.
I hope to see my pickleball group playing with extra energy after they enjoy one of these. Thanks Kristina!
2 Herbs Go Nuts Meeting LaLa Pesto Salad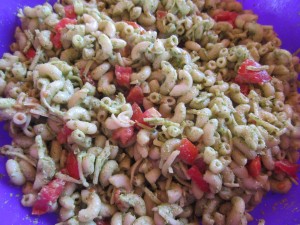 Our garden is winding down due to the heat so I'm using up the last of the tomatoes and basil. I wanted to try a 'different' version of basic pesto by adding parsley. I also wanted to experiment with the flavor of pecans instead of pine nuts (since these are so expensive), using a local cheese, and having the sauce be a creamier texture by using yogurt.
3 small pkgs elbow macaroni, cooked and cooled
2 cups packed fresh basil
1/4 cup packed fresh parsley
3 garlic cloves, cut in half
1 TBSP lime juice
1/4 teaspoon salt and pepper
1 tsp sugar
1/3 cup pecans, toasted
1/3 cup olive oil
1 cup grated Asadero cheese
1 cup plain LaLa yogurt (sin azucar = without sugar)
2 cup tomatoes, quartered
Cook macaroni according to package directions, drain and refrigerate.
In a blender, puree basil, parsley, garlic, lemon juice, salt, pepper, olive oil, yogurt, and nuts until smooth yet thick. Pour over macaroni, add cheese, and toss to coat, fold in tomatoes. Serve chilled.
Herb Fritters Recipe
1/2 c prepared instant mashed potatoes
3/4 c shredded cheese (any type you like)
1 egg, beaten
1 garlic clove, minced
1 c fresh cilantro, parsley, basil, oregano (whatever you can find that is fresh), finely chopped (one of these or a mixture of them)
Salt & pepper
1/4 c green onions
Mix together all ingredients except green onions. Divide mixture into 12, shape into balls and flatten slightly. Heat an iron skillet to medium high and either fry in a little oil or grill fritters on each side until golden. Sprinkle green onions on top and serve with yogurt dip (recipe below).
1 c Greek-style yogurt (here in Mexico this is called Jocoque; try Rosy's, Santa Lourdes, or Rancho Montana – found near the cremas/sour cream)
1 TBSP onion, minced
1 garlic clove, minced
1 TBSP fresh cilantro, parsley, basil, oregano, finely chopped (same as above)
Pina/Preztel Lanilla con una Pizca de Coco
I love pretzels, either by themselves, dipped in ranch dressing or mustard, or covered in chocolate. So incorporating them into a dessert idea wasn't hard. I wanted something light but crunchy, sweet but salty.
The hard part was finding a substitute for whipped cream here in Mexico.
I found a product at Ley Express called Chantilly in the dairy case. I was skeptical as all the cartons were mushed in and I had no idea what to expect on the inside. I was pleasantly surprised as inside the carton was the Mexican version of Cool Whip. Chantilly cream contains powdered sugar and a touch of vanilla, so it's sweeter than regular whipped cream. I'm not a fan of Cool Whip, so how do I now make this a heavier texture and less sweet? Well, how about mixing it with cream cheese?
1 cup coarsely crushed pretzels
1/2 cup melted butter
1/2 cup sugar
1 package softened cream cheese
1 large can pineapple rings (drained of juice), cubed
1 carton Chantilly whipped topping
Toasted coconut
Combine the pretzels, butter and sugar. Sprinkle in a layer into a 13″ x 9″ baking pan. Bake at 400 degrees for 7 minutes. Cool then break into small pieces.
In a large bowl, beat cream cheese and 1/4 cup pineapple juice with a fork until smooth. Fold in pineapple cubes and 3/4 tub of the whipped topping and chill.
When ready to serve, stir crushed up pretzel mixture into pineapple mixture. Scoop into a pretty glass or bowl and top with toasted coconut (available at Moy in Guaymas). Enjoy!
Cauliflower Wings
The illustrious publisher of What's Up is always forwarding me recipes that she would like me to try out. Then she wants to be my "taster" to make sure my recipe is worthy.  Well she forwarded me this one, Cauliflower Wings, and I had to try it and put my own spin on it.
1/2 head cauliflower, cut into bite size pieces
1 cup flour
1/2 cup Panko bread crumbs
1 TBSP garlic powder
1/4 tsp salt and pepper
1 1/2 cups water
1 cup Frank's RedHot sauce
1/3 cup butter, melted
Mix butter and Frank's RedHot sauce together and set aside.
Mix all ingredients except cauliflower together — you want this batter to be the consistency of a light beer batter. Dip cauliflower pieces in batter and place on a greased metal baking pan. Bake at 425 degrees for 15 minutes. Remove from oven and brush on hot sauce mix. Return to oven and bake for another 15 minutes. Remove from oven a second time and turn cauliflower pieces over with a metal spatula, coat with hot sauce mix again. Return to oven and bake for another 15 minutes.
Serve with ranch dressing. Unbelievable, but the consistency and flavor is just like chicken. This one's for you, Christa!
Green Onion Curry Soup
We LOVE soup so we eat it even in hot weather. With some chopped fresh cucumber and a dollop of sour cream on top, this soup would be just as good served cold. This is a simple soup with green onions which are found here all the time (though I used the ones from my husband's garden). Curry powder can also be found in most markets and at Moy in Guaymas. The curry flavor and a crisp white wine is fantastic.
4 cups green onions, chopped
2 TBSP olive oil
4 cups chicken stock
2 TBSP curry powder
Saute green onions in olive oil over medium high heat for about 15 minutes. Add chicken stock and curry powder. Reduce heat to simmer and cook for another 15 minutes. With a hand or stand blender (if using a stand blender, blend in small batches), blend until smooth. Bon appetit.
Taste of Summer Salad
My step mom shared with me this recipe with me and I altered it to include ingredients we can easily get down here.
1 cups roma tomatoes, quartered
1 ripe avocado
1 1/2 cups frozen corn, thawed
2 TBSP cilantro
Honey Lime Dressing
Juice of 1 lime
3 TBSP vegetable oil
1 TBSP honey
1 garlic clove, minced
Salt & pepper to taste
dash cayenne pepper
Grill corn over medium heat for about 10 minutes, corn should have some golden brown spots and be tender but not mushy.  Dice the avocado, chop cilantro, and gently (don't mash the avocado) combine all ingredients including the dressing. Let stand for 10-15 minutes for flavors to mingle. These flavors just scream SUMMER in your mouth.
No-Bake Chia Bars
Chia seeds are readily available at Soya de Guaymas here in San Carlos or Moy in Guaymas. I hear they have wonderful health benefits, give you a boost of energy, and make you feel full longer. Here is a quick no-bake recipe to incorporate chia seeds into a handy snack.
1 cup dried fruit (dates, pineapple, mango, raisins, craisins), finely chopped – pick one or use a combination of a few
1/2 cup Chia Seeds (you could substitute almonds, pecans, etc. – finely chop if using one of these)
3 Tablespoons Coconut Oil (or 4 TBSP olive oil and 1/4 cup shredded coconut)
1/4 cup chopped dark chocolate (you could omit this)
1/2 teaspoon vanilla extract
Pinch of cinnamon
Mix together all ingredients into a crumbly dough. Place dough onto a piece of plastic wrap and really muscle it and form it into a compressed roll about 6″ long. Then roll tightly in plastic wrap (or press into the bottom of an 8″ x 8″ baking dish). Place dough in freezer for 2 hours. Remove and cut into circles (or squares if in baking dish) with a very sharp knife. Wrap in wax paper. These must be kept in the refrigerator (or freezer) for the coconut oil to remain hardened and keep these bars together.
Enjoy whenever you feel hungry between meals or need a boost of energy. Be prepared to be picking the seeds out of your teeth for awhile.
Beet Hummus
Beets are usually always found in the markets here (though not the beet greens, isn't that strange?). And I discovered last year that you do not need tahini paste to make a great hummus – peanut butter works just as well.
4 medium sized beets (cooked and cubed)
4 Tbsp peanut butter (or tahini paste)
4 Tbsp lemon juice
3 cloves garlic (chopped)
1 Tbsp olive oil (or sesame oil)
1 Tbsp ground cumin
Generous pinch of sea salt or Kosher salt
Chopped fresh herbs (one of these or a mixture of them; cilantro, parsley, mint, basil, oregano, rosemary)
You can cook the beets by either boiling them, steaming them, or roasting them. Cook until you can easily pierce a beet with a fork. I do not peel my cooked beets as I still believe there is nutritional value in vegetable skins.
Place all ingredients in a food processor (or blender) and pulse until smooth. Taste and adjust as desired. Top with fresh herbs. Chill and serve with crackers, celery sticks or corn chips. Can be frozen.
Easy Enchilada Sauce
Sure, you can take dried chiles, soak them, cook them, and puree them, but it is also nice to have a quicker option and one that gives you much more flavor choices. The Moy store in Guaymas, located at approximately Calle 20 and the Malecon (adjacent to the Auditorium), has over a dozen different dried chile powders for sale. These range from mild to extra spicy, from robust chile flavor to more of a tomato flavor. You can taste the powders before you purchase one or more to make an enchilada sauce just to your liking. The favorite at my house is called Chile California with a robust tomato flavor with quite a bit of heat.
Once you bring the powder(s) home, here is how to make it into a tasty sauce you can claim is homemade.
2 tablespoons vegetable oil
2 tablespoons flour
1/4 cup purchased chili powder
2 cups water
1/4 cup tomato juice, sauce, ketchup, or fresh tomatoes (if more tomato flavor is wanted)
Salt and garlic powder to taste
Heat the oil in a medium saucepan over medium heat. Stir in the flour and cook for 1 minute, then add the chili powder and cook for 1 minute more. Be careful not to take a big whiff of this at this stage as you will be coughing for a week. Gradually stir in the water with a whisk, mixing well to make sure you get out all the lumps. Stir in the tomato sauce (if desired) and season with salt and garlic powder to taste. Reduce heat to low and simmer for 10 to 15 minutes. More water can be added to create a thinner sauce if desired. Crema Mexicana, sour cream, or plain yogurt can also be added to calm the heat level, if necessary. Make into enchiladas or add to soups, chile, smother burritos or eggs, use as a marinade for any meat, or make into a dip. Enjoy!
Spinach Balls
Now spinach is coming out of our ears from our garden. While we do love a spinach salad, there had to be something else I could make with spinach. These are a variation of a meatball without the meat.
2 cups chopped spinach (frozen or fresh after wilting)
2 cups dry bread crumbs (Herdez now makes one called Verdurizador made with dehydrated vegetables and wheat flour)
3 eggs, beaten
1 cup grated cheese (any type you prefer)
1/2 onion, chopped
2 tablespoons melted butter
1 tablespoon garlic pepper spice
Squeeze excess moisture out of spinach. Mix together all ingredients. Cover and chill in the refrigerator for 30 minutes. Form into balls the size of golf balls and place onto a lightly greased baking sheet or baking dish. Place baking sheet in the freezer for 1 hour or more (these can be stored in the freezer in an airtight container for several weeks). When ready to bake, allow the balls to partially thaw, about 30 minutes.
Preheat oven to 350 degrees F (175 degrees C). Place baking sheet in oven for 20 to 25 minutes, or until lightly browned. Serve and enjoy!
Cheese Ball However You Please
PARTY, PARTY, PARTY. They abound this time of year and you know what goes with it; "Bring Your Own Booze and an Appetizer To Share". Everyone loves cheese and crackers and cheese balls are so easy to make and festive.
Mix together 8 oz softened cream cheese, 1 cup grated cheese (any type you like and ANY Mexican cheese will work – use goat cheese for the sweeter ones), and 2 TBSP softened butter either by hand or with an electric mixer or in a food processor.
Add 1/4 cup of one finely chopped ingredient from these options: Garlic, any dried fruit, Lemon or Orange Peel, Brown Mustard, Chocolate chips, Bacon, Frozen Spinach
… and 2 TBSP from these options: Dry ranch dressing, Shredded coconut, Oregano, Thyme, Cinnamon, Onion powder, Lemon peel.
Mix well and roll into a ball with wet hands, wax paper, or plastic wrap.
Place ball in refrigerator for 2 hours to firm.
Roll the refrigerated ball in 1/2 cup of the finely chopped topping (Cilantro, Almonds, Pecans, Green onions, Graham crackers, Pistachios, Walnuts) adjacent to the ingredient you added to your cheese mixture.
Place on a pretty platter and serve with crackers, cookies or slices of fruit.
Indian Carrot Pudding
Cinnamon chips have been the rage in the USA for the past year. If you can bring some back with you on your next trip North or have a friend bring you some, here is a recipe to use them. If you can't find these, it is easy to alter this recipe and make it without them, and it is just as delicious. I added them because I had them and I wanted a different recipe to use them in than the standard oatmeal cinnamon cookies or snickerdoodle bread. Plus we have loads of carrots from our garden so this recipe made perfect sense.
6 medium carrots, shredded
2 cups media crema
1/2 cup raisins, golden raisins, or dried pineapple
1/4 cup butter
1/2 teaspoon ground cardamom
1/4 teaspoon salt
1/4 cup chopped candied almonds (like they sell at the Empalme Sunday tianguis)
1/2 cup cinnamon chips (or 1/2 cup brown sugar and 1/2 teaspoon cinnamon)
1/2 cup Amaretto
Heat carrots and media crema to boiling in saucepan; reduce heat. Simmer uncovered, stirring frequently, until all the crema is absorbed, about 45 minutes. Stir in the cinnamon chips (or brown sugar), raisins, butter, cardamom, Amaretto, and salt. Cook over low heat, stirring constantly, until the mixture is a pudding-like consistency, about 15 minutes. Top with nuts. Serve at room temperature alone, or warm with ice cream on top, or press mixture into a pan and freeze, cut into squares, and serve cold (why not put this mixture on top of a graham cracker crust?). YUM!
Homemade Sports Drink
It is getting hot out there and HUMID. For anyone doing any activity outdoors, you are no doubt sweating up a storm. Sometimes water is not enough to replenish the electrolytes lost with physical exertion. Gatorade is expensive and with ingredients like high fructose corn syrup, glycerol ester of wood rosin, artificial colors, etc. why not make your own where you control the ingredients and it only costs you pennies?
4 Tablespoons agave nectar or honey (or 1/3 cup sugar) –
      for energy
1/2 teaspoon salt – to regulate fluid balance in your body
1/2 cup boiling water
3/4 cup juice, preferrably fresh squeezed and pulp free
(grapefruit, orange, tomato) – your main flavoring
1/4 cup lemon or lime juice – acts as a preservative
6 cups drinking water
Dissolve salt (and sugar if using granulated) in boiling water. Add agave nectar or honey. Stir in juices and drinking water. Refrigerate, drink as needed, and keep enjoying those outdoors. Can also be frozen in either ice cube trays or in reusable small plastic bottles.
Swiss Chard
Swiss chard is available at produce stands in Mexico and is now in abundance if you are growing it in your home garden. After the initial uses of it raw in salads, or sauteed in a pan with onions, tomatoes, mushrooms, whole beans, rice, etc., or blenderized in a 'green' drink, what else can you do with it?
How about Swiss Chard Lasagna where the swiss chard leaves are substituted for the pasta noodles? Simply take your favorite lasagna recipe, cut the thick stems out of the swiss chard leaves, and layer these leaves in your caserole in place of the pasta. I typically use a double layer of leaves. Cook the same as you would lasagna. You do need to wait for the baked casserole to cool down a bit and make sure you use a sharp serrated knife in a sawing motion to cut the lasagna into squares. Otherwise you will just pull the entire leaf along your knife. I've thought about chopping up the swiss chard leaves prior to layering them in this as I think that would make cutting easier but haven't tried this yet.
Another idea is to use the swiss chard leaves as a wrapper and filling and rolling it up like a burrito. Again cut the thickest part of the stems out of the swiss chard leaves. Pile the leaves on top of each other and microwave them for about 30 seconds. If you have a large pile (10 or more leaves), you'll want to separate and flip them over so that they are evenly softened and may need to microwave for another 30 seconds.
Lay one leaf on a flat surface with the pointed end facing toward you. Bring the cut edges where the stem was removed together, overlapping them slightly. Fill the bottom third of the leaf with cooked beans, cooked rice, browned hamburger or sausage, other cooked vegetables, and/or a mixture of all of these. Leave space at the sides also. Then starting at the end nearest you, fold the pointed end over your filling, then fold the sides in over your filling, then roll the entire leaf into a bundle. Layer these in a greased casserole pan and top with cheese, enchilada sauce, pasta sauce, bechamel sauce, etc. and bake in a 300 degree oven for 30 minutes.
I haven't tried it yet but recently found a recipe to pickle those left over stems, maybe when I'm really bored I'll try this one day.
Flavored Rehydration Waters
We haven't had much of a winter and it will soon be warming up even more, so it is a good time to familiarize yourself with cool, refreshing, and delicious flavored waters.
As you are purusing the fruits and vegetables at any market here you will see dried flowers and bean pod things. What are these and what are they used for? The dark red dried flowers are hibiscus flowers used to make Jamaica tea and the bean pod things are tamarind pods used to make Tamarind water. The other flavored water you will see offered in restaurants is Horchata water (rice milk). Most of these are sweetened with sugar which increases their calorie count, so feel free to substitute agave syrup (or try them without any sweetener).
Here is how you make locally Flavored Water for your enjoyment as our temperatures rise:
Jamaica Tea
A couple handfuls of dried Jamaica Hibiscus flowers
8 cups water
3/4 cup sugar
Bring 3 cups of water to a boil and pour over hibiscus flowers. Let the flowers soak in the water for about 20 minutes. Pour the liquid and flowers through a strainer a couple times to remove all the tiny little dried bits. Pour into a large pitcher and add in sugar and stir until dissolved. Pour in remaining water. Add more sugar or water if necessary. I like to add fresh mint or basil leaves at the same time that the dried flowers are soaking for additional flavor. Chill and serve. This can also be served hot.
Tamarind Water
15 tamarind pods
4 cups water
1 cup sugar
Bring water to a boil in a large pot over high heat, remove from heat. Prepare the tamarind by removing the outer shell and pulling off as many strings as you can. Place the tamarind pots and sugar in the water. Let the tamarind soak for a couple hours. Place the soaked pods in the palm of your hand and squeeze out any liquid and pour mixture through a strainer. Chill and serve.
Horchata Water
1 cup long-grain white rice, rinsed
2 cinnamon sticks, preferably Mexican
8 cups water
1/2 cup sugar
Heat 4 cups water to a boil and remove from heat. Add rice, cinnamon sticks, and sugar. Let soak for a couple hours. Puree mixture in a blender in batches until smooth. Pour through strainer into a pitcher. Stir well before serving. Chill and serve with a dusting of ground cinnamon.
Mexican Yoghurt Goes Greek
We LOVE Greek style yogurt due to it's thicker consistency. We like the flavor of Mexican yogurt but HATE the consistency. So here's a simple way to always have Greek style yogurt on hand while using the Mexican yogurt available here.
1 large carton LaLa Yoghurt Natural Sin Azucar (see photo – this has a clear top with blue foil underneath)
Large fine mesh strainer
Cheesecloth
Large bowl

Line your strainer with 4 layers of cheesecloth (maybe available at the fabric store in Guaymas otherwise purchased up North). Cheesecloth comes in a package wapped around a piece of cardboard, unroll and cut off enough to overlap your strainer (this is actually 4 very thin layers of cheesecloth). You can also use a men's hankerchief, a tea towel, cloth baby diapers, or a coffee filter (mesh or paper). Place strainer over large bowl. Pour yoghurt into strainer. Place bowl in refrigerator for 24 hours. Scrape yoghurt out of strainer and into a resealable container (you lose about 1 cup of yoghurt but gain all that creamy thickness). Enjoy in the classic Greek manner with honey and almonds or use as a substitute for sour cream or use in a smoothie.
Now do not throw out what remains in your straining bowl. This is whey from the yoghurt, you'll get about 1 cup. Whey is loaded with protein and calcium. Use it as a substitute for liquids in baking, put a block of feta cheese in it to preserve it, feed your garden with it, or use as a substitute for buttermilk.
Papaya Seed Salad Dressing
Did you know that papaya seeds are edible? Yep, they are, and they taste a lot like black pepper so why not use them in a tasty salad dressing.
1/3 cup papaya seeds
1/2 cup olive oil
1/8 cup lemon juice (or 2 TBSP apple cider vinegar)
2 TBSP dijon mustard
2 TBSP agave nectar or honey
1 tsp minced onion (or 1/2 tsp powdered)
2 cloves garlic, minced (or 1/2 tsp powdered)
I have a hand mixer so I used this but you could certainly mix this in a blender. Blend all ingredients until smooth. This makes a very thick dressing with the papaya seeds the consistency of coarse ground pepper. Taste and adjust to your liking. Store in the refrigerator and shake well before using.
Blueberry Cornbread Oatmeal Pancakes
The mornings are getting cooler. Starting your day with these delicious pancakes will certainly warm you up.
These are a true pan "cake" made with masa de maiz which is corn flour made from hominy. This means the pancakes will be thicker and more dense than a flour pancake and will take a little longer to cook. Masa makes these pancakes especially moist and the corn flavor is delicious.
My husband said they are the best he has ever had.
2 cups masa
1 cup oatmeal
1 tsp baking soda
2 tsp baking powder
½ tsp salt
¼ cup sugar (I eliminated this as I think the blueberries add enough sweetness)
1 tsp cinnamon
2 eggs
2 tsp vanilla
1 1/2 cups milk (plus another 1/2 cup)
1 cup water
1 cup frozen blueberries
In a large mixing bowl, stir together dry ingredients. In another bowl combine eggs, vanilla, 1 1/2 cups milk and the water. Add liquid to dry ingredients. Stir mixture until well blended. Either thaw the blueberries and add without their liquid or add them frozen to the mixture and stir in.
Heat a griddle to medium high, spray with cooking oil, and spoon mixture onto griddle. This makes a much thicker pancake dough than you are probably used to. After spooning dough onto griddle, you'll want to quickly and gently push (spread) the mixture out into more of a flat shape (mine were about 1/2″ thick). Cook for about 2 minutes, checking bottom for a golden brown color, flip and cook on the other side for another 2 minutes. Halfway through a batch, I added another 1/2 cup of milk as the masa continued to absorb the liquid in the mixture and my dough was getting very thick. Makes about 14 – 5″ pancakes. Serve with your favorite toppings. Bring on the day!
Mango Colada
Do you need something to keep you cool and refreshed during these sweltering summer months? I love mangos and I love pina coladas so how about combining these into one fruity summer drink (with a kick).
1 cup pureed mango
1 cup tequila
1/4 cup lime juice
1/2 cup coconut milk
Club soda
Mix together all ingredients except club soda. Fill glasses with ice, fill 1/3 of the glass with club soda, top with concoction, stir. Sip (if you can, these go down fast and furious) and say aaaahhhhhhh.
Peachy Typhoon Froth

The Weather Wonk says we are in hurricane season and I can sure feel that the heat and humidity have risen. I'm going to hunker down with a nice fruity, refreshing, sparkling cocktail and wait the season out.
1 cup peach nectar (make sure it says 'nectar' as this is a higher quality juice than the regular one)
2 oz. (a shot) gin
4 fresh mint leaves
1/2 tsp sugar
1/2 of a lime, juiced
Agua Mineral
Place fresh mint leaves and sugar in the bottom of a tall glass and gently mash together with a muddler or the back of a wooden spoon. You just want to lightly bruise the mint to release its flavor. Add gin and lime juice and mix together until sugar dissolves. Add peach nectar and ice and top with a splash of agua mineral.
You know where to find me until October…..with one of these in my hand.
When a Recipe Isn't a Recipe Frittata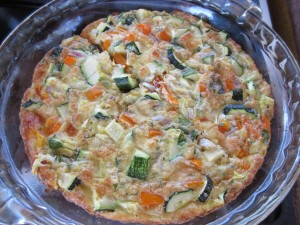 What could be easier than throwing together most any ingredients you like, baking them, and having a satisfying breakfast? Frittatas fit this bill and are very simple to make. This is certainly one of those dishes that anyone can make and you don't even need to measure anything. Throw in the amount that looks good to you. This is one I made recently so I've listed portions just to give you an idea of how much to put in.
6 eggs
1 zuchinni
1 bell pepper, any color
1/2 onion
1/2 cup grated cheese, any kind you like
1/4 cup media crema
Salt and pepper
Chop whatever ingredients you are using into small pieces; those listed above and/or mushrooms, tomatoes, etc. – get creative. Mix all ingredients together. Season with salt and pepper. Pour into a lightly greased pie or cake pan. Bake at 350 degrees for about 20 minutes or until firm (shake the pan and if nothing jiggles, it's done). Cut and serve.
Easy, fast, and very few dishes to wash; my kind of meal.
Chillin' Yogurt Pie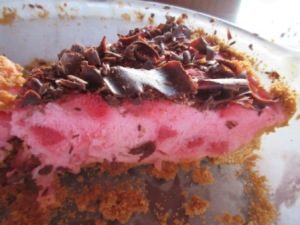 I wanted something cold, sweet, easy, and fairly healthy. This recipe has a million combinations. First, I thought it would be a chocolate yogurt pie and then found out that Mexico does not have chocolate-flavored yogurt. Then I starting thinking about a Pina Colada cream pie but couldn't find either pineapple-flavored yogurt or even cans of chopped pineapple so I could flavor plain yogurt. So I ended up with this one and used coconut oil to enhance the coconut flavor of the cookies. But really, you could make this recipe with whatever flavor of cookie or yogurt you want (and that you can find). You could even layer a couple of different flavors; freeze the first layer for at least an hour and then pour the second flavor over the first layer and freeze. Get creative and have this send shivers down your throat on a hot day.
2 sleeves of cookies (about 6 oz) from the Gamesa Hawaianas 630g box
4 TBSP coconut oil
1 carton (1kg) LaLa strawberry yogurt
4-6 sliced fresh or frozen strawberries
Shaved chocolate
In a food processor, pulse the cookies until they are coarsely ground. Add coconut oil and pulse again until finely ground and combined. Coat a pie pan lightly with coconut oil (or cooking spray if you don't want the coconut flavor). Pour cookie crumb mixture into pie pan and press into bottom and sides. Bake at 350 degrees for about 10 minutes. Cool crust completely.
Pour carton of strawberry yogurt over cooled crust and top with sliced frozen strawberries. Place in freezer for at least 3 hours. Sprinkle shaved chocolate on top. Remove from freezer and allow to sit out for 5-10 minutes to make cutting into slices easier. Enjoy!
Multiple Choice Cookies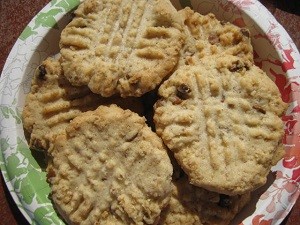 Yes, it is that time of year where even if you are not a baker, you may become one for a short time to enhance the holiday season. I love creating recipes with choices so each person can add the ingredient they like. The choices here range from chocolate, to dried fruit, to nuts, to…..? The Special K cereal adds a nice crispiness to these cookies.
1 cup butter, softened
1 cup canola oil
1 cup sugar
1 cup brown sugar, firmly packed
1 egg
1 tsp vanilla
2 1/2 cups Special K cereal
1 cup oats
1/2 cup shredded coconut
3 1/2 cups flour
1 tsp baking soda
You pick;
A) 1 cup chocolate chips (or other flavored chip)
B) 1 cup chopped nuts
C) 1 cup chopped dried fruit
D) 1 cup peanut butter
E) 1 cup chopped pretzels
F) 1 cup crushed potato chips
In a food processor, pulse the cereal, oats, and coconut until finely chopped and set aside. Beat the butter, oil, sugars, egg, and vanilla until smooth. Slowly mix in the cereal combination, flour, and baking soda. Stir in your multiple choice ingredient. Shape dough into 1-2″ balls. Press fork tines criss-cross across ball flattening it out (dip tines in water to prevent sticking). Bake in 350 degree oven for 16 minutes. Let firm on pan before removing to a cooling rack.
New Year's Resolution to Eat Healthier Morsels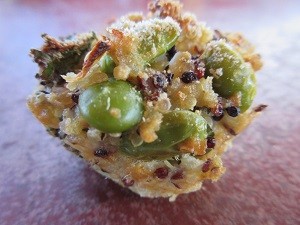 Somewhere on the list of all of our New Year Resolutions is the one to try to eat healthier. This bite size snack made with kale and quinoa fits the bill.
Plus, winter crops are starting to come up in our garden and this includes kale, Swiss chard, spinach, and beets. Any of these, including the beet greens, could be used in this recipe. So if you don't like kale, try it with spinach.
2 1/2 cups cooked quinoa, at room temperature
4 large eggs, beaten
1 small onion, finely chopped
1/2 cup crumbled feta
1 clove garlic, minced
1 cup very finely chopped kale (or spinach)
1/2 cup shelled edamame (or peas)
3/4 cup breadcrumbs
Butter mini-muffin tins generously, and line with a strip of parchment paper in each indent, as this makes popping the bites out of the pan after either baking or freezing simple (see photo).
Combine the quinoa, eggs, and salt in a medium bowl. Stir in the onion, feta, garlic, kale, and edamame. Stir in most of the breadcrumbs, and let sit for a few minutes so the breadcrumbs can absorb some of the moisture. Fill the prepared muffin tins with the quinoa mixture, pressing the mixture down, and then sprinkling with the remaining breadcrumbs. Bake for 25-30 minutes in a 375 degree oven until baked through and really browned on the outside.
Remove the quinoa bites from the pans after a few minutes. Enjoy either hot or at room temperature, maybe even with a creamy dip if you are not being too calorie conscience. Here's to keeping one of your New Year's resolutions!
A Twist on Eggnog
We still have a few days to enjoy holiday favorites. Almond milk is now readily available here. It has less calories and more calcium than milk. Plus it is lactose and gluten free. We are already packing on extra poundage from all we are eating and drinking this time of year, so how about a waistline friendly mocktail that is quite delicious.
48 oz almond milk
2 TBSP vanilla
1/2 c whiskey
1/2 c amaretto
1/2 c spiced rum
1/2 c maple syrup
1 whole nutmeg, microplaned, or 1 tsp ground nutmeg
Mix together and serve over ice. Sprinkle additional nutmeg on top to look pretty and festive. Now go work off all those other calories. Happy Holidays!
Hangover Remedies
I'm stretching it a bit in this 'recipe' section with this article. I know it and you probably know it, even though we say we're not going to drink too much tonight…..we will anyway, and we will suffer tomorrow. What a way to bring in the New Year. San Carlos is WAY too beautiful to waste even one moment in a self-induced state of feeling bad.
The #1 reason we feel like crap after imbibing alcohol is because our cells are dehydrated. Then we compound this by giving into cravings that really aren't helpful to your body and its recovery. So if you cannot moderate your drinking, here are some tips to help you get through the next day and hopefully even enjoy and appreciate some of it.
While you are drinking at that holiday party, alternate glasses of water with your drink of choice — this will help keep you hydrated. If you are worried about it, pour that water right into your drink glass (no one will be the wiser) or hey, tell others what you are doing and you may start a trend.
Don't mix alcoholic drinks — stay with one.
While at that party (or before going), EAT, EAT, EAT. Your stomach needs food to absorb the alcohol, and you will still get your buzz on.
When you return home, drink a sports drink or preferably coconut water before you go to bed. Even just having a full glass of water will help.
Before hitting the sack, take a multi vitamin and a B complex.
You will want a greasy breakfast the next morning, but you should stick to yogurt, cereal, fruit, toast, scrambled eggs, or something easily digestible that will get into your system quickly. Eat frequent small meals all day long. A sweet in the afternoon will bump your energy levels.
If you are a coffee drinker, drink a small amount and see how it goes down. You don't want to add to your pain by going into a caffeine-withdrawal headache. I find that even though I'm a black coffee drinker, I have to have milk in my coffee on these mornings.
Drink a glass of clamato or tomato juice (though it is tempting, do not add alcohol — Hair of the Dog will only make your hangover last longer).
Take Alka-Seltzer or a pain reliever after eating a small amount if you are feeling headache pain. Drinking a carbonated beverage later in the day may help settle your stomach.
Getting oxygen into your blood stream will help you feel better, so take a walk or do some gentle yoga while taking deep slow breaths.
Drink tons of water all day.
Plan on lounging around and not getting anything done that next day. You've caused this to yourself so why not make the best of it.
Besides the above, which if I followed my own advice, would make me a happier camper, my personal hangover cure is eating Posole (Mexican hominy soup) with lots of lime, cabbage, onion, and cilantro.
Here's to feeling good after having fun! Bring on the New Year.
Even Dogs Need Holiday Cheer Treats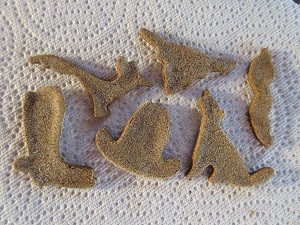 If made with buckwheat flour, these are wheat allergen-free for your special Fido (sorry, I believe you'd have to bring this down from the USA). Buckwheat flour is denser so you will use less of it. I had pumpkin puree left over from another recipe so I used this instead of the sweet potato puree, but I know that pumpkin puree can be difficult to find here at times.
2/3 c sweet potato puree (or pumpkin if you have some left over from a can)
1/4 c peanut butter
2 large eggs
2 TBSP olive oil
1 3/4 c buckwheat flour (or 2 1/2 c whole wheat flour)
To make sweet potato puree, wash and poke potato several times with a fork, place in microwave and cook until soft, 3-5 minutes depending on the size of potato. When cool, scoop out insides and mash with a fork.
Beat together potato (pumpkin) puree, peanut butter, olive oil and eggs until well combined. Gradually add the flour until incorporated and dough is no longer sticky.
Working on a lightly floured surface, knead the dough 3-4 times until it becomes a smooth texture. Roll the dough to 1/4″ thickness and cut out desired shape. Place onto baking sheet lined with a silpat or parchment paper. Bake in 350 degree oven for 20-25 minutes. Store in an airtight container in the refrigerator.