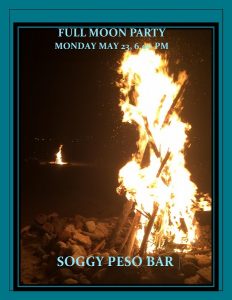 Fine Dining on the Beach – Theatrical Circus Show – The Dudes at the Soggy Peso Full Moon Party.
We are just 1 week away from yet another promising great party on the beach… the famous Soggy Peso Full Moon Party that began a decade ago! The Moon will actually be full this coming Saturday, but we will celebrate Her on Monday night with fine dining and live entertainment. There really is nothing like good food, good music, good company… and on a most beautiful beach by moonlight to say the least!
This month, our menu theme is "from the Sea of Cortez" …we will be serving a 5 course meal that will delight your taste buds (oysters tempura, shrimp bisque, octopus tostada, grilled catch of the day with a dill Hollandaise sauce with a side of wild rice and sautéed kale, and a fresh mango surprise dessert — not from the Sea of Cortez! (For those of you who have an aversion to the foods of the sea, we can accommodate you with a menu from "El Rancho Grande" starring a prosciutto & spinach stuffed chicken breast).
Meal tickets for 450 pesos include 2 any-drink tickets or a bottle of wine for 4 tickets.
After dinner, we will welcome 2 artists from Hermosillo who will perform some theatrical circus acts – and not the jugglers at the traffic lights…  They will be followed by our awesome local talent The Dudes who will rock us into the night as our traditional bonfire dances away!
The party starts at 6:00pm. If you've never been to a Full Moon Party before and you are in town, this is a DO NOT MISS beach event! For others, it is already a well experienced affair you always look forward to.
There are 80 dinner tickets available. Get yours at the Soggy Peso as soon as you can or contact us at 622-125-7238, lest you end up on the waiting list!  (When you purchase your tickets, please let us know if you require the non-Sea of Cortez meal). Don't be shy to just join the party without having the meal (a 50 pesos cover will apply).
See you at the beach by moonlight!