At the Mirador San Carlos, it's all about the views … from sunrise to sunset. You can spot whales, rays and many birds from here. The view up the coast is spectacular with Tetakawi dominating the scene.
The Mirador gives you a fantastic vantage point for viewing the beauty of San Carlos and the twin-peaked Tetakawi, especially during sunrise and sunset. remember your camera!
There is parking along the road, a couple souvenir and coco stands, benches and bathrooms.
You can walk from the mirador down a steep rough path to a small, pretty beach below.
Rent a kayak or a boat to travel the ruggedly beautiful coastline below the mirador.
Dolphins: A Project of Hope, Art Installations at the Mirador
Mirador San Carlos – Top ocean view in the world
Want to see the top ocean view in the world (according to the National Geographic book "Secret Journeys of a Lifetime")? Visit San Carlos, Sonora Mexico — our Mirador Escénico was ranked #1 in the world!! It confirms what we already knew — that the "Mirador is also a world-class vantage point for spotting wildlife, including dolphins, pelicans, and whales". Mirador Escenico, San Carlos, Mexico: This scenic lookout, four miles from San Carlos, gives a peerless view over the Gulf of California, dramatic Tetakawi — a volcanic hill jutting out of the sea — and the secluded coves of Playa Piedras Pintas.
Here are their top ocean views in the world, according to National Geographic's new book "Secret Journeys of a Lifetime: 500 of the World's Best Hidden Travel Gems
" (click buy on Amazon):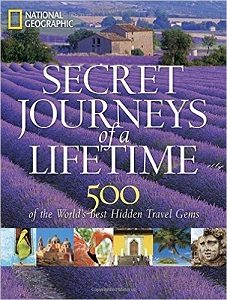 1. Mirador de San Carlos Nuevo Guaymas
2. Kalaupapa, Molokai, Hawaii
3. Cape Leeuwin, Australia
4. Sur to Aija, Oman
5. Hornbjarg, Iceland
6. San John's Head, Hoy, Orkneys, Scotland
7. Son Marroig, Mallorca, Spain
8. Sagres Bay, Portugal
9. Dun Aengus, Aran Islands, Ireland
10. Coast Road, West Sahara
San Carlos, La Vista más Espectacular del Mundo, National Geographic
Video Mirador Escénico de San Carlos
Location of Mirador Escénico San Carlos
Drive along the main road through the Bahia and past Tetakawi. Take the first left and follow the road to the top of the look out.