Valentine's Day events in San Carlos, Mexico: February 14, 2023. List of restaurants with food specials and entertainment. Where to enjoy a delicious and romantic meal.
Embarcadero Cocina + Bar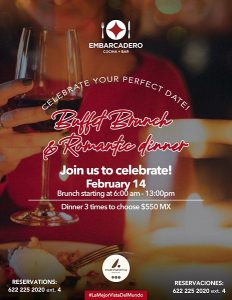 Celebrate Valentine's Day at Embarcadero with the breakfast – brunch buffet, and gala dinner.
In the morning, a special Brunch Buffet will be served from 6:00am to 1:00pm. The cost is 270 pesos per person (140 pesos for children under 12).
Starting at 6:00pm, Marinaterra will be serving a romantic dinner for 550 pesos per person.
To reserve your table, call 622-225-2020 ext. 4.
Tortuga's Restaurant & Bar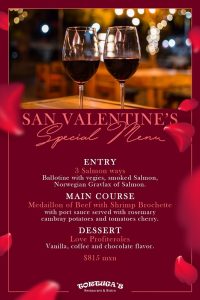 Tortuga's Restaurant & Bar will be serving a special 3 course Valentine's Day menu with medallion of beef and shrimp brochette as the main course for 815 pesos.
Enjoy jazz music live with classic love songs, and have an unforgettable night.
For reservations, call 622-226-2051 or 622-123-7527.
Blackie's Restaurant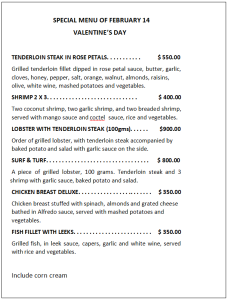 Blackie's will be serving a special menu on February 14, including Grilled Tenderloin Fillet, Shrimp, Lobster with Tenderloin Steak, Surf & Turf, Stuffed Chicken Breast and Fish Fillet (click the flyer for the complete menu).
For reservations, call 622-226-1525.
Bonifacio's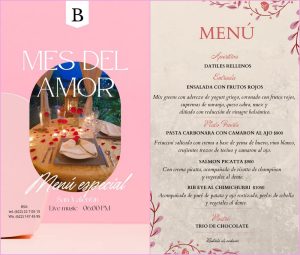 Love is in the air at Bonifacio's.
Enjoy a delicious 4-course meal this Valentine's Day (click here for the full menu).
There will be live music starting at 6:00pm.
Reserve today by calling 622-227-0515 or 622 147-4595.
La Catrina Restaurant & Gallery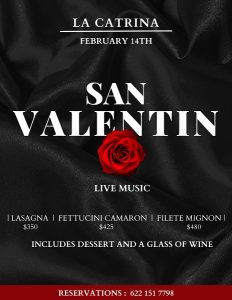 La Catrina Restaurant & Gallery is preparing a special Menu for Valentine's Day.
Choose your main course from the following:
* Lasagna, 350 pesos
* Fettuccini Camaron, 425 pesos
* Filete Mignon, 480 pesos
Includes dessert and a glass of wine. And, there will be live music.
To make your reservation, please call 622-151-7798.
La Palapa Griega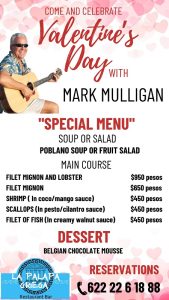 La Palapa Griega is celebrating Valentine's Day with a special menu and entertainment.
Choose from a Main Course (see flyer for options and prices); and all meals come with Poblano Soup or a Fruit Salad.
For dessert, enjoy a delicious Belgian chocolate mousse.
Mark Mulligan will entertain you from 5:00pm – 8:00pm.
For your reservations, please call 622-226-1888 or make them at the restaurant.
Come and enjoy a special meal with your friends and loved ones this Valentine's Day.
Colibri Restaurant & Bar
Colibri Restaurant & Bar is celebrating Valentine's Day by offering a fixed price special dinner for 2.
* Two house drinks
* Two special Lasagnas
* Two cheesecake desserts
The cost is 900 pesos per couple.
The regular menu will also be available.
Come in and celebrate that special someone at Colibri's.
Sensa Nova will be entertaining you live from 6:00pm – 9:00pm.
For reservations, please call 622-115-3466.
Sunset Bar & Grill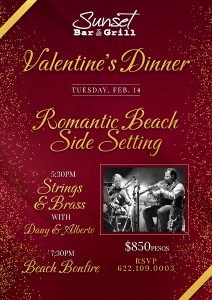 Come and celebrate Love at the sexiest restaurant in town! Sunsets will spoil you in the most romantic setting on the beach with a 4 course dinner, strings & brass live music with Dany Moreno and Alberto Sandoval from 5:30 to 8:30pm, and a cozy bonfire at 7:30pm.
Menu:
1  Duck and mushroom terrine crostini
2  Caprese salad with heirloom tomatoes
3  Stuffed quail served with jazmine rice and gravy OR Homemade Fettuccini pomodoro with grilled shrimp
4  Tiramisu or Lavender and cardamom pannacotta
$850 pesos or $45 USD including a glass of Champagne
Reservations required  622-109-0003
La Calaca Tacos y Cerveza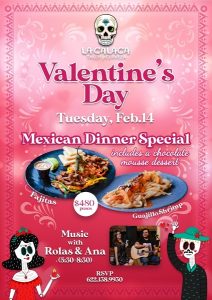 Dia del Amor y del Amistad – Enjoy a Mexican dinner and a chocolate & berry mousse at La Calaca for 480 pesos.
Choose between Fajitas Cielo, Mar y Tierra (chicken, shrimp and beef) or Shrimp Guajillo pasta – deliciously flavorful and not too spicy.
Live music with Rolas (from Bad Rumors) & Ana from 5:30 to 8:30pm will spice up the evening!
A perfectly casual way to celebrate the evening with friends and loved ones!
El Mar Restaurant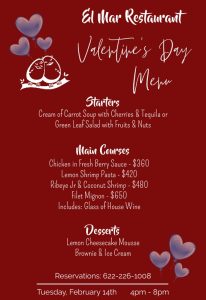 El Mar Restaurant is serving a romantic Valentine's Day Menu with several main courses to choose from:
* Chicken in fresh berry sauce, 360 pesos
* Lemon shrimp pasta, 420 pesos
* Ribeye Jr & coconut shrimp, 480 pesos
* Filet mignon, 650 pesos
Every meal includes a soup or salad starter, dessert and a glass of win.
For reservations, call 622-226-1008.
Altamarea Restaurant
Altamarea Restaurant has several special Valentine's Day menu items. Choose from the following:
Starter: Eggplant tower with tomato mozzarella and basil, 300 pesos
Pasta: Green fettuccine with ham, mushrooms, peas and cream, 350 pesos
Fish: Catch of the day with saffron parsley and lemon purée, 450 pesos
Beef Cut: Pan-seared Filet Mignon with bacon and green pepper corn sauce, 550 pesos
Dessert: Red velvet panna cotta, 180 pesos
Fixed price for the complete tasting menu, either fish or meat, is 1200 pesos per person. Special dishes can also be ordered separately.
Your special dinner will be available from 5:00pm – 9:00pm. Call 622-113-3563 or 622-172-9298 for your reservation.
Restaurante Casa Manolo
All month long, get 10% off any bottle of wine at Restaurante Casa Manolo.
Enjoy the month of love at Casa Manolo.
For your reservation, call 622-170-4558.
Marvida Taproom & Kitchen
Join us at Marvida Taproom & Kitchen for Valentine's Day and enjoy the following special:
* A bottle of red wine and one Fluffy Cheesecake dessert, 350 pesos
* 2 Orca Stout beers and one Fluffy Cheesecake dessert, 250 pesos
Enjoy the best views in town at the marina with your special someone this Tuesday, February 14.
Piccolo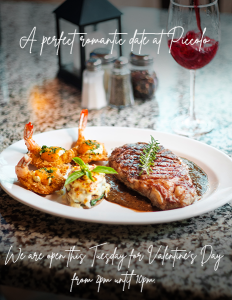 A perfect romantic date at Piccolo.
We are open this Tuesday for Valentine's Day from 4:00pm until 10:00pm.
Keep Exploring … San Carlos Mexico:
Where to Stay. Check out the options on Booking.com: