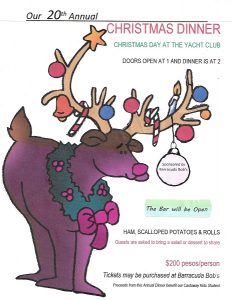 Cancelled 2020
The Annual Community Christmas Dinner sponsored by Barracuda Bob's, will be held on Christmas Day, at the San Carlos Yacht Club.
Dinner will include ham, scalloped potatoes and dinner rolls. Guests are asked to bring a salad or dessert to share.
Doors open at 1:00pm a dinner is served at 2:00pm at the San Carlos Yacht Club.
Everyone is welcome.
Tickets cost 200 pesos and are available at Barracuda Bob's after December 11. There are rarely tickets still available at the door – so get your tickets early.
This dinner is a benefit for Castaway Kids.
Come and join your friends in rejoicing in this special holiday.