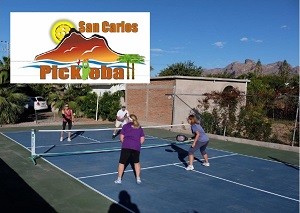 The 3rd Annual Dink 'n Sea Pickleball tournament will be held on February 9 and 10. Men's Doubles and Women's Doubles will take place on Thursday, February 9. Mixed Doubles will take place on Friday, February 10.
For Beginner, Intermediate, and Advanced players (2.5/3.0/3.5/3.5+ levels). Choose your partner. If you do not have a partner, check the "Looking for a Partner list" at Seaside Realty. This will be a regular bracketed tournament with a consolation round. Tournament ball will be the DuraFast 40 yellow, NOT the Onyx Pure, so you may want to practice with the DuraFast before the tournament.
This year all play will be at Puesta del Sol. The courts sit down in the ground and will be well protected plus there is ample seating all around the court. There will be a restroom available to all participants and spectators.
Check-in begins at 7:15am and play begins at 8:00am each day. Entry forms are available at Seaside Realty. Entry forms must be submitted by Saturday, February 4.
For more information, click here, or contact Theresa Melius at theresamelius@gmail.com. Volunteers are needed too — please email Theresa if you would like to volunteer.