The extremely popular ExpoGan in Hermosillo will be ongoing from April 26 – May 19, 2018
It includes rodeos, horse riders, dance performances, theater, live music, children's rides and art shows.
On Sunday, April 22 there will be a parade through Hermosillo starting at 6pm on Kino Blvd.
Many shows and live entertainment are included in the 50 pesos entrance fee.
The fair opens at 4pm each day.
Palenque will bring more than 40 performers to the stage. Tickets range in price.
https://www.facebook.com/ExpoGanSon/
Palenque Program / Artists – ExpoGan Sonora 2018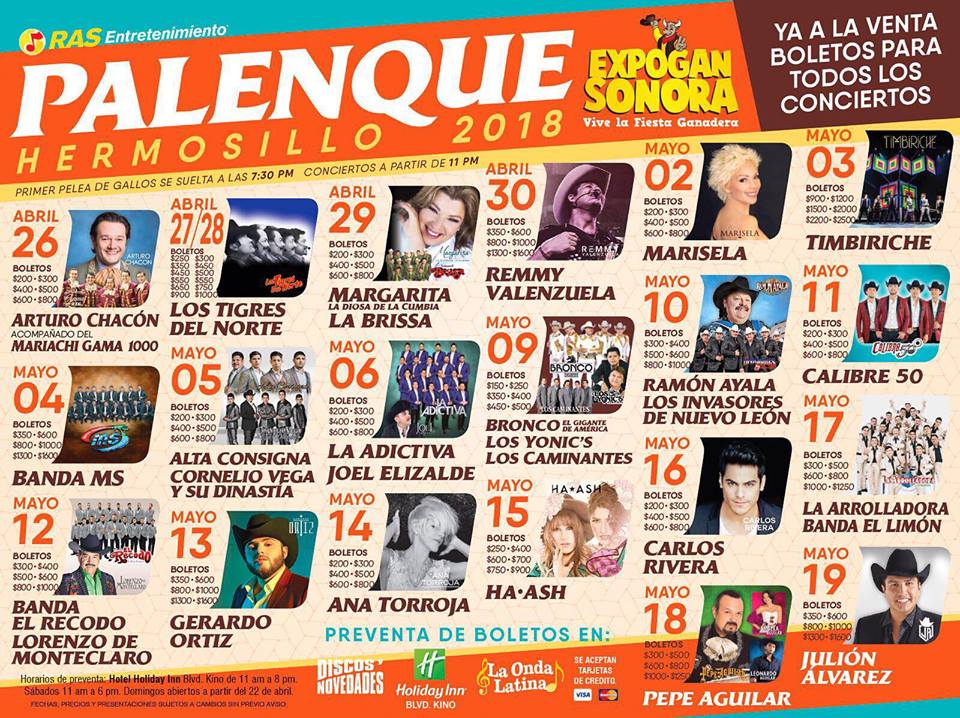 -Timbiriche
-Arturo Chacón
-Marisela
-Ha*Ash
-Ana Torroja
-Pepe Aguilar
-Carlos Rivera
-Margarita y La Brissa
Teatro del Pueblo
Video de ExpoGan Hermosillo
¡Vive la Fiesta Ganadera! Espectáculos para toda la familia: Música, Teatro, Danza, Actividades Infantiles, Pista de Hielo, Show de Hipnosis, Plaza de la Comida y mucho más
Official website: expogansonora.org