Father's Day Specials in San Carlos, Mexico: Sunday, June 21, 2020. Where to celebrate Father's Day in San Carlos.
Father's Day at Sunset Bar & Grill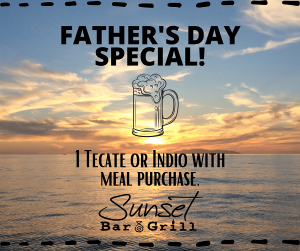 On Sunday, June 21, treat dad to a Tecate or Indio beer at the beach with the purchase of a meal.
Happy Father's Day!
Father's Day at Tortuga's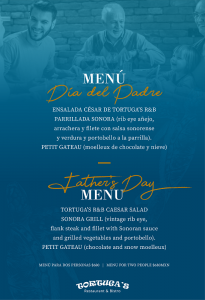 This Father's Day, treat your father to a special dinner at Tortuga's.
Tortuga's will be serving Sonora Grill (vintage rib eye, flank steak and fillet with Sonoran sauce) with grilled vegetables, plus Tortuga's R&B Caesar salad to start and petit gateau for dessert.
The menu for 2 people is 680 pesos.
Colibrí Restaurant & Bar Father's Day Special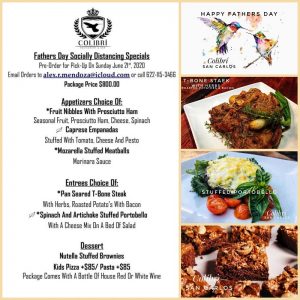 On Sunday, June 21, there's no better way to celebrate "Dad" than with a special meal at Colibri's.
Click on the flyer on left for our Father's Day specials.
Choose any 2 appetizers; 2 main courses (you can choose 2 different ones or two of the same); and dessert and a bottle of wine (red or white) is included.
Regular menu items also available.
Seating is limited so reserve your table today by calling 622-115-3466.
You can also enjoy this special menu "To Go". Please call us with your order by end of day Friday, June 19 at 622-115-3466 for pick-up on Sunday.
Marvida Taproom Bar & Grill Father's Day Give-away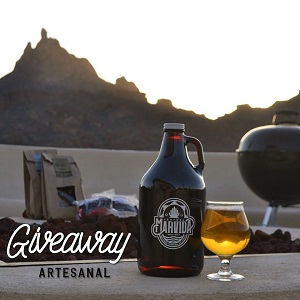 For Father's Day, Marvida Taproom Kitchen & Bar is giving you a chance to win one of 3 Artisanal Beer & Meat prizes.
Just follow these 3 steps:
1. Follow the pages of
* @cervezamarvida
* @ravialimentos
* @losdossahuaros
2. Tag who you would like to gift this super Artisanal Beer & Meat prize to
3. Repost your stories from this photo and Tag us
Done! We will select 3 WINNERS chosen randomly this Friday, June 19th.
Here are the prizes:
1st Prize: 1 package of grilled sausages; 1 pack of spiced sausages; 1 growler of beer; 2 packs of beef jerky
2nd Prize: Meat sampler pack, Charcuterie; 1 pack of beef
3rd Prize: Meat sampler pack; Charcuterie; 1 pack of beef
Good luck to all!
Keep Exploring … San Carlos Mexico:
Where to Stay. Check out the options on Booking.com: