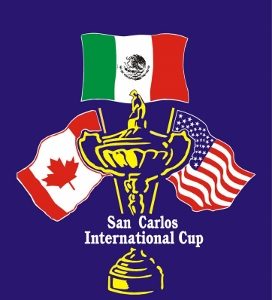 The International Cup Golf Tournament will take place on Thursday, February 21 and Friday, February 22, 2019 at the San Carlos Country Club.
FORMAT – 9 HOLE MATCHES:
• Thursday – two nine hole matches, one in the morning one in the afternoon
• Friday – Individual Match
RULES OF PLAY:
• This is a competition exclusively for Bahia San Carlos Men's Club members.
• Men from the Blues with the exception that Men 75 years or older may from the White tees if they choose.
• Ball Out of Bounds; Ball Not Found Within Five Minutes – Penalty – Stroke and Distance.
At any time, a player may, under penalty of one stroke, play a ball as nearly as possible at the spot from which the original ball was last played (see Rule 20-5), i.e., proceed under penalty of stroke and distance. (Translation – no more weed rule for this season)
• Free drop all cart paths, nearest relief, no closer to hole.
• Rocks in bunkers can be moved. Balls may be taken out of foot prints and holes in bunkers.
• Balls may be lifted, cleaned and placed one (1) club length no closer to the hole in Fairways and 2 club lengths in Rough. When a player chooses to use a mat, the mat to be placed at the location where the ball rests. There is no club length adjustment for the use of mats.
• All putts to be holed unless conceded.
To register, please sign-up at the Country Club or online here.
Everyone that lives on the golf course is encouraged to support the teams: Mexico, Canada, and USA, by displaying a flag or sign in your backyards.