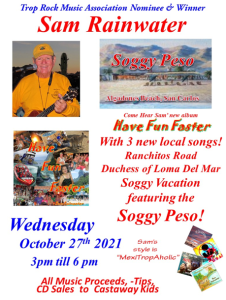 Trop Rock Music Association Nominee and Winner, Sam Rainwater will be performing at Soggy Peso on Wednesday, October 27 from 3:00pm – 6:00pm.
Come hear Sam play originals from his new album "Have Fun Faster" including the song "Soggy Vacation", plus many of your beach favorites.  Enjoy Sam's "MexiTropAholic" style, a cold drink and a beautiful beach view.
All MUSIC Proceeds to Castaway Kids!
Sam Rainwater Annual Special Events:
Christmas Carol Sing Along, December: Sing along to your favorite Christmas carols with Sam Rainwater and Susan King (on Steel Drums) on Sunday, December 22 from 4:00pm – 7:00pm, Colibri. This fun evening is a fundraiser for Castaway Kids. Sing Along Song Books provided.
Sam Rainwater Celebrates New Year's 1 day early, December 30: Join Sam Rainwater one day early to celebrate New Year's Eve Eve on Monday, December 30 from 4:00pm to 7:00pm at HammerHead's Dockside Bar & Grille. Because 1 day of celebration just isn't enough! HammerHead's will have food and drink specials. All music proceeds will be donated to Castaway Kids.
Sam's Music Bio:
2021 Have Fun Faster
2016: Cheaper Than Ice
2013: Can You Not Hear Me Now. 2 songs from this album were in the Top 20 on Beach Front Radio in 2013.
2011: Dressing For Life
2009: Vacation Location. Sam's 1st Nashville produced album "Vacation Location" was key in Sam being nominated for the Trop Rock Horizon Award in 2011. It features 17 original Trop Rock songs. Michael Lopez of the Phoenix New Times says "this album screams Parrot Head, and the music sure as hell didn't disappoint".
During the winter months, Sam plays in sunny San Carlos Mexico (at the Country Club, La Palapa Griega, Soggy Peso, HammerHead's), and during the summer, he plays gigs around the US. If you'd like to book a concert by Sam, visit him online or contact him at slh2oh2o@aol.com, 480-831-7286, 602-339-4655 (cell). Sam loves to play for live audiences and welcomes invitations to play at House Concerts and "Beach Friendly" Bars and Venues across the country – all for charity.
Sam's charitable work earned him the 2012 TRMA "I Can" Award for community service. Sam writes and plays all of his music with a purpose, donating 100% of his music income to charity and then doubling those donations through a match from his consulting company SunTronics Inc.
Keep Exploring … San Carlos Mexico:
Where to Stay. Check out the options on Booking.com: