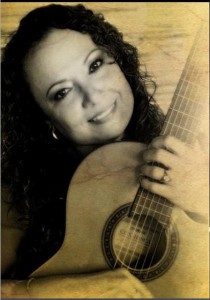 Professional singer, Lorena Robles is a popular performer in San Carlos, singing in both Spanish and English.
Listen to Lorena on Spotify.
Lorena is a native of Hermosillo. She trained in Classical Guitar and Operatic singing at the Casa de la Cultura followed by singing & Classical guitar studies at the Autonomous University of Nuevo León. She is highly accomplished in acoustical guitar playing in the styles of Trova, Ballad, Bolero & Ranchera. She has performed extensively throughout Mexico City & Sonora & especially in San Carlos. A highlight of Lorena's career was performances in the main theater of The Palace of Fine Arts in Mexico City along with her sister Marcela Ro at such events as The Duoma Loma and with the Ballet of Amalia Hernandez and Tehua in 1998.
Cantante profesional de gran variedad de géneros en diferentes idiomas.
Listen to the beautiful La Bruja by Lorena Robles (ft. Marcela Ro)
In the annals of Mexican folklore, there is, perhaps, nothing more powerful than the story of La Bruja. The Robles Sisters' masterful rendition of this centuries old folk song tells the story tells its story with powerful emotion.
CARTA DE UN LEON A OTRO
Canción de Juan Carlos Baglieto
Un tema muy actual, a pesar de que la canción se escribió en 1983.
ADAGIO (Albinoni)
Aquí, mi interpretación de una de los temas que más me gusta hacer…
La música es de Albinoni y no se quien puso la letra, pero me fascina cantarla. Espero que les guste.