Mexican Airlines: there are numerous airlines that fly internationally to Mexico from the US, Canada and beyond. And several cheap airlines in Mexico that fly nationally.
Airlines that fly internationally: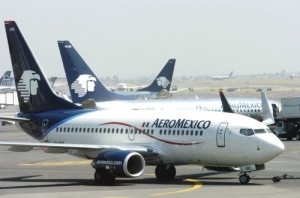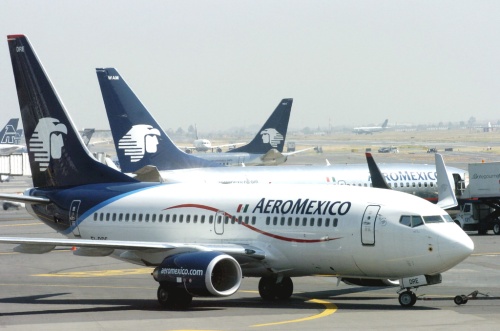 Aeromexico
Aeromexico's US-Mexico service originates in Atlanta, Boston, Chicago, Dallas/Fort Worth, El Paso, Houston, Las Vegas, Los Angeles, Miami, New York City, Ontario CA, Orlando, Phoenix, San Antonio, San Diego and Tucson. Cities in Mexico with direct Aeromexico service include Hermosillo, Mexico City, Monterrey, Guadalajara, Cancun and others.
Telephone: (622) 222-0123 & 222-0266
Air Canada
Air Canada, Canada's premiere airline has flights from Vancouver, Calgary, Edmonton, Winnipeg, Toronto, Montreal and Halifax numerous Mexico destinations, including Cancun, Los Cabos, Puerto Vallarta, Mexico City, Ixtapa-Zihuatanejo and Cozumel.
US Airways
US Airways
Telephone: (622) 221-2266
Delta Airlines
Delta flies to Mexico City, Acapulco, Puerto Vallarta, Guadalajara and Cancun from such US gateways as Los Angeles, Dallas-Fort Worth and Atlanta.
Telephone: 800-221-1212
American Airlines
American Airlines has gateways in Dallas-Fort Worth and Miami that have flights to Mexico City, Monterrey, Guadalajara, Puerto Vallarta, Los Cabos, Cancun, Acapulco, Ixtapa-Zihuatanejo and Leon.
Telephone: 800-433-7300
Alaska Airlines
Alaska Airline's Mexico gateways are San Diego, Los Angeles, San Francisco, San Jose and Phoenix. One stop service is offered from Seattle, Portland and Vancouver, BC. Destinations include Cancun, Guadalajara, Ixtapa/Zihuatanejo, Los Cabos, Mazatlan, and Manzanillo.
Telephone: 800-426-0333
Continental Airlines
Continental Airlines offers service to dozens of cities in Mexico including Manzanillo, Puebla, Oaxaca and Toluca. See Continental's International route map.
Telephone: 800-231-0856
Mexicana
Mexicana is in bankruptcy proceedings and all flights have been cancelled.
Mexican Airlines that fly Nationally
Several low fare airlines service the country, making travel around Mexico inexpensive and easy. With Viva Aerobus, Volaris, Interjet and ClickMexicana all offering discount airfares and deals in Mexico, you can find low fares between most major cities and beach resorts — like Mexico City, Guadalajara, Monterrey, Hermosillo and Cancun.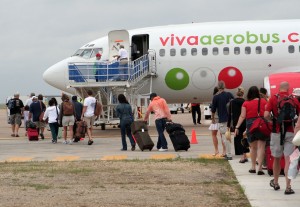 VivaAerobus
One of Mexico's cheap airlines, VivaAerobus, services some US cities.
VivaAerobus' hub is Monterrey. From Monterrey there are many flights to other destinations around Mexico.
Volaris
Volaris flies between several cities, including Guadalajara, Tijuana, Puebla, Hermosillo and Toluca. Toluca is about 45 minutes west of Mexico City and is Volaris' hub. From there, you can fly to many other locations.
InterJet
Interjet's hub is Mexico City. From Mexico City, you can fly around the country. Interjet also offers hotel packages.
Click
MexicanaClick is Mexicana's cheap fare airline, based in Mexico City and servicing numerous cities throughout Mexico, Havana Cuba and Miami. A recent search revealed a round-trip flight from Miami to Cancun for 4,029 pesos (about $311 USD).
Aerocalafia
Aerocalafia has flights between La Paz, Los Cabos, Guaymas and Puerto Penasco. Gateways in US include Los Angeles and Tucson.
Telephone: (622) 221-0511 & 221-0634
Aeroservicio Guerrero
Aeroservicio Guerrero has flights from Guaymas to Santa Rosalia, Guerrero Negro and Loreto.
Telephone: (622) 221-2800
Currency Exchange
Many of these cheap airlines in Mexico quote their fares in pesos and you may want to use on online currency exchange to convert the quotes to dollars.