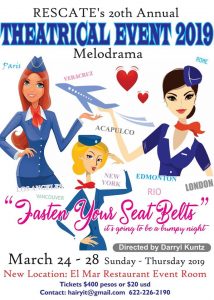 Rescate's 20th annual Theatrical Event is from March 24 to 28, 2019 at El Mar (back room). Fasten Your Seat Belts! It's going to be a bumpy night.
Tickets cost 400 pesos / $20 USD.
If you have questions or need tickets, contact Harriet at 226-2190 or hairyit@gmail.com.
Rescate Theatrical Event Casting Call, January 7, 2019
Actors and actresses are needed to make the annual Rescate Theatrical Event the best ever. No previous acting experience is needed. Actors and Actresses to fill major and minor
roles in this years production. Production staff needed as well.
Do you yearn for the thrill of being in a live production, on stage, performing in front of your friends? Then come to Club Deportivo on Monday, January 7 at  3:00pm to show your stuff.
This years production is cuckoo!. No, REALLY, the name is "Cuckoo"! We need your help. It's always fun and a great way to exercise your brain….Join us and help RESCATE.
For more information, contact Harriet at hairyit@gmail.com, 226-2190.
The following information is from 2018 … 2019 info coming soon …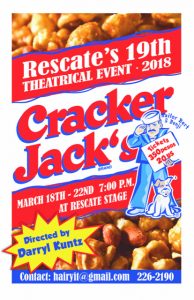 This years Theatrical Event is the 19th annual. A comedy farce with lots of action and big laughs. Come see your friends and neighbors in a 'nearly'! professional production called, "Crackerjacks!".
The evening of entertainment will include vaudeville acts sure to leave you rolling in the aisle (Rescate on site!!).
As usual there will be complete bar service, popcorn, comfortable seats, clean bathrooms and all for the low price of 350 pesos (same as last year). Tickets are available at SeaSide Realty, ReMax Realty, Rescate Thrift Store and cast and crew members.
18 and 24 karat Gold Card members- please bring your Gold Card and pick up your tickets at either the Thrift Store or ReMax.
If you have questions or need tickets, contact Harriet at 226-2190 or hairyit@gmail.com.
5 nights: 18 March through 22nd March at the Rescate clinic parking lot.
Proceeds help support Rescate de San Carlos Ambulance and First Emergency service.
Rescate Melodrama Rerun, April 6, 2018:
We will be screening the DVD of this year's Rescate Theatrical Event "Cracker Jack's" at Dusty's Deli this Friday, April 6 at 6:00pm. The kitchen and bar will be open for food and drink orders. The cast and crew will be there seeing themselves for the first time. A 50 peso donation to Rescate will be collected.
The DVD was filmed in HD with excellent resolution.
The menu at Dusty's is great and the company will be fun. The cast and crew will be there for autographs, photos, etc! Come mix it up with the "mental" cases. Sure to be a fun night.
Thank you again to the community for supporting Rescate.
Rescate Melodrama Videos
Rescate Melodrama Photos
Rescate Melodrama photos by Bob Mettlewsky