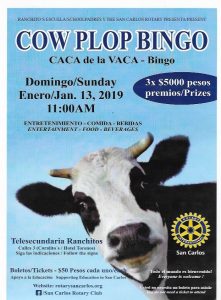 On Sunday, January 12, 2020 join Rotary for the Cow Plop Bingo fundraiser for the Telesecundaria (Jr High School) in the Ranchitos from 11:00am to 3:00pm.
All of the net proceeds support educational needs at the Ranchitos schools.
details from 2019 …. more 2020 info coming soon:
There are 3 $5000 Peso prizes/plops. To play cow plop bingo, purchase plot tickets for 50 pesos. Only 2000 tickets are available with 3 prizes being awarded. You don't need a ticket to attend but you do need a ticket to win one of the three plop prizes.
You can purchase tickets at Santa Rosa Market and CI Banco beginning Wednesday, December 26 daily from 10:00am to 2:00pm weekdays.
Come and enjoy food, drinks, music and fun, and you will have a great time supporting the children of San Carlos.
You might want to bring a chair for your own seating. This is a fun event for all ages.
For more information, visit the Facebook page.
The Plop is on the field beside the ball diamond. There will be signs on Calle 3 (goes beside the Athletic Club) taking you straight to the event.