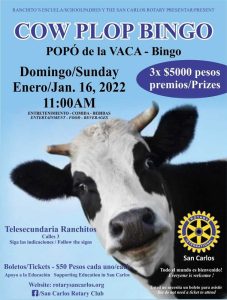 On Sunday, January 16, 2022 join Rotary for the Cow Plop Bingo fundraiser for the Telesecundaria (Jr High School) in the Ranchitos from 11:00am to 3:00pm.
All of the net proceeds will benefit the TeleSecundaria school in the Ranchitos.
There are 3 $5000 peso prizes. To play cow plop bingo, purchase plot tickets for 50 pesos.  You don't need a ticket to attend but you do need a ticket to win one of the three plop prizes.
You can purchase tickets at Santa Rosa Market and CiBanco or from any Rotarian.
Come and enjoy food, drinks, music and fun, and you will have a great time supporting the children of San Carlos.
You might want to bring a chair for your own seating. This is a fun event for all ages.
The Plop is on the field beside the ball diamond. There will be signs on Calle 3 (goes beside the Athletic Club) taking you straight to the event.
For more information, visit the Facebook page.