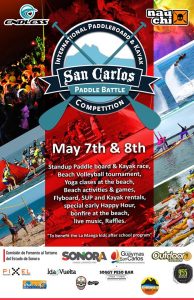 San Carlos Paddle Battle is an international race for Standup Paddleboards and Kayaks, bringing participants from the US, Canada and Mexico to the Soggy Peso beach.
Featuring a multi-category Race Class and Open Class, if you can paddle it, you can race it!
There are two courses available: 2 mile Short course; and 5 mile Long course.
In addition, there will be SUP Sprint races, SUP Tug-O-War, Team relays, Volleyball Tournament and FLYBOARDING!
Mark your calendars and come join in the fun!
No paddleboard, no kayak…. No problem! We have rentals available at the race thanks to Enrike Adventure Tours. Email Clint for more information, at endlesssup@gmail.com.
There will be product demos and technique clinics.
Even if you don't race, come to watch and for the Beach Party with live music, food and drinks.
Click here for more information and to register online. Follow the event on Facebook.
San Carlos Paddle Battle
Saturday schedule:
12:00pm – 8:00pm. Registration tent open for Paddle Battle races, and Volleyball Tournament. Participants need to pick up Racer Goodie Bag and number. Course open for practice
4:30pm – 7:00pm. Live music by Luna Band.
6:30pm – 7:00pm. Sunset yoga on the beach.
7:00pm to 8:00pm. Bonfire.
Sunday schedule:
7:00am. Check In & Registration tent open
8:00am. Mandatory Safety Meeting & Race instructions. NOTE: All participants must attend safety meeting.
8:30am. Pre-race yoga warm-up.
9:00am – 11:00am. Long and short race mass start for all SUP and kayak race participants
12:00pm. Volleyball tournament starts
1:00pm. Tug-O-War
2:00pm. Egg toss
2:30pm. Scavenger hunt
3:30pm. Relay race.
3:30pm – 6:00pm. Live music by Guajira Son Salsa Band.
6:30pm. Awards Ceremony
6:30pm – 9:00pm. Live Jazz quartet at Sunset Bar & Grill.
San Carlos Mayo Paddle Battle Course Map: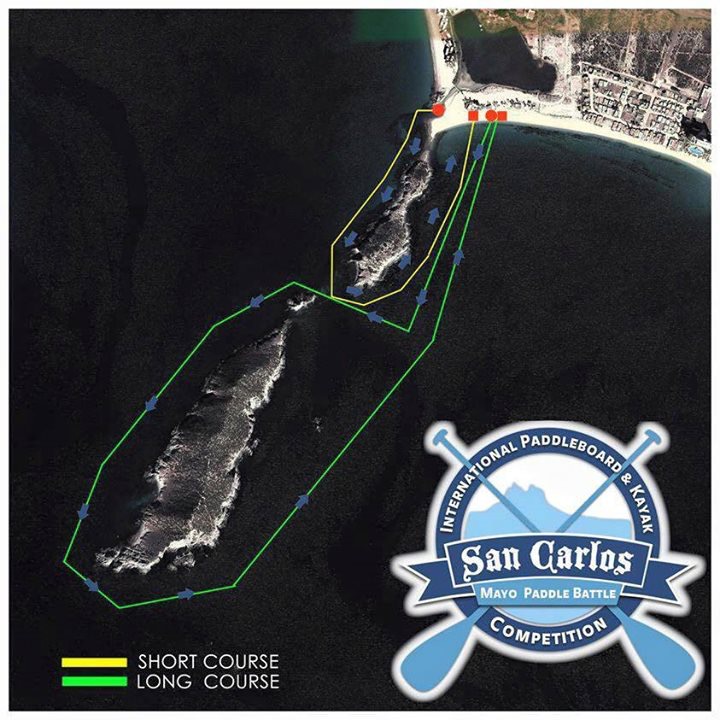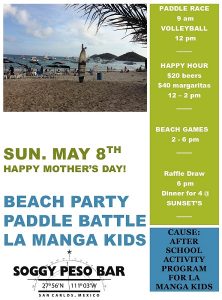 As hosts of the 3rd Annual Paddle Battle / Beach Party on Sunday, May 8, Soggy Peso and the Paddle Battle organizers will donate a percentage of the proceeds from Paddle registrations & Soggy Peso sales to La Manga Children.
As many of you know, the Soggy Peso has been a long time supporter of the La Manga fishing village.  Over the past decade, thanks to your help & participation, especially the Costa del Mar community's continuous involvement, we have concentrated our help around the 3 school rooms out there.  In our continued efforts to positively impact the Children, we have created a new project!… these kids, unlike most kids we know, and even most kids in Guaymas, have no activity clubs or after school activity programs to learn a new sport or hobby or craft or art!
Our new project involves setting up an after school activity program, bringing  teachers & instructors to La Manga to teach the kids TaeKwonDo or Karate, Painting and Dance.  It would be great if there could be organized soccer or baseball teams, but maybe further down the road with more volunteers…   Didn't we all do those kinds of activities growing up? and wasn't that such a big part of our social & creative & physical & soul education!
Next Sunday will be the first event to help get this project off the ground. Soggy Peso will be hosting a fantastic PaddleBoard/Kayak competition to watch or partake in (registrations Saturday at noon at Soggy, beginners welcome), a Volleyball competition starting at noon on Sunday (make your own team of 4!), fun family beach games from 2:00pm to 5:00pm (scavenger hunt, egg toss, limbo), Live Music with Guajira Son salsa band from 3:30pm to 6:00pm), Happy Hour from 12:00pm to 2:00pm with 20 pesos beers and 40 peso margaritas, then from 2 to 5 buckets of Amstels (Tecate's new addition to their beer portfolio) – 12 for the price of 10. We will be selling 100 pesos Raffle tickets from 12:00pm to 6:00pm to raffle off a dinner for 4  at Sunset Bar & Grill (3 courses + drinks + wine valued at 2000 pesos!).  After the games and Paddle Battle Awards ceremony (Sunday 6:00pm), you can wander over to Sunsets for dinner and listen to the incredible Jazz Trio that plays from 6:00pm – 9:00pm (reservations advised) … or chill around a bonfire to end your day at the beach!