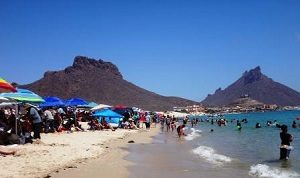 The week leading up to Easter sees an influx of thousands of people into Sonora's beach-side towns. This is a popular time for family vacations. And what better place to spend it than on a sandy palm-lined beach?
Semana Santa, or Holy Week, goes from Palm Sunday to Easter (March 25 – April 1, 2018). It is Mexico's second most important holiday season, after Christmas.
School children have a two week holiday, and many companies close-up shop during that time so that their employees can spend time with their families.
For some, it is time to spend in church, but many Mexicans will also take advantage of the holiday to go on vacation. And, for their vacation, half of Mexico flocks to the beaches looking to play in the surf, camp on the beach, spend time with family and friends and to dance, drink and have a fiesta.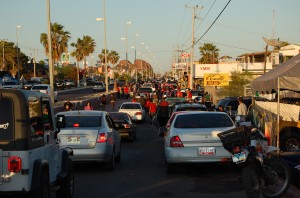 Yes, Semana Santa is noisy and crowded and the traffic can be horrible, but it's a fantastic Mexican celebration that should be experienced at least once. You will not regret or soon forget sharing in the excitement of a whole town celebrating together.
By day the beaches are overflowing with tourists and locals alike, flying kites, swimming and soaking up the beautiful weather. Enjoying fun in the sun and a couple cervezas. If you need to drive anywhere, this is the time to do it, because by late afternoon, the roads are bumper to bumper with trucks, cars, ATVs and motor bikes cruising up and down the strip. The vehicles are loaded to overflowing with people. Whole families ride on ATVs. And, speakers and plastic Tecate chairs in the back of pick-up trucks convert them into parties on wheels.
From one end of the town to the other, celebrants, young and old, families and friends fill the streets. Thirsty revelers guzzle Pacifico and Tecate. The already raucous atmosphere is pumped up even higher with roving musicians who add to the cacophony coming from hundreds of vehicles' sound systems turn up to the max. People dance in large groups anywhere and everywhere that the feeling moves them.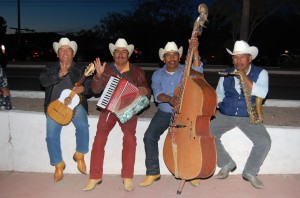 Vendors line the street selling everything from souvenirs and sunglasses to local crafts. The mouth-watering smell of BBQ wafts through the air. All the local food specialties are available, from ceviche to carne asada. In addition to all the regular restaurants, there are dozens of temporary stalls set up to sell these tasty eats.
Yes, Semana Santa is noisy and crowded and the traffic can be horrible, but it's a fantastic Mexican celebration that should be experienced at least once. You will not regret or soon forget sharing in the excitement of a whole town celebrating together.
Sandy beaches, tantalizing cuisine, cold beer and music. What are you waiting for? Book your trip now to one of Sonora's beach resorts and experience the joy that is Semana Santa. The hotels will fill to capacity, so book early or come ready to camp on the beaches.
2018 information coming soon …
2017 Semana Santa Restaurant Hours and Specials
Open, with differences (including Easter Sunday specials):
El Embarcadero at MarinaTerra will have breakfast (6am – 12:30pm), lunch (2pm – 5pm) and dinner (starting at 6pm) buffets every day for 170 pesos per person.
MarinaTerra's Beach Club is open from 9:00am to 9:00pm. Entrance is free if you're staying at the hotel, and 150 pesos for everyone else (100 pesos for kids). You can enjoy the beach, pool, restaurant bar and rent beach equipment like kayaks and paddle boards.
Delfines Bar and Grill: will be open normal hours for Semana Santa. Thursday, Friday and Saturday we'll take the party upstairs to the patio for people-watching from the balcony and a bartender will be on hand to serve. We will be closed on Sunday.
El Mar Restaurant: closing at 2:00pm Thursday through Saturday. Easter Sunday Breakfast buffet.
La Conquista Cocina Mar y Tierra: open Monday – Wednesday from 1:00pm – 10:30pm. Special – 4 people or more receive a FREE bottle of wine for their table. Choice of white (Chardonnay or Sauvignon) or red (Cabernet or Merlot). Closed from Thursday to Sunday.
La Salsa Beach Bar: open as usual with Entertainment as follows: Thursday – DJs, Friday – DJs, Saturday – DJs, Sunday – Luna Band, 1:30pm – 3:30pm; Assterisko, 3:30pm – 6:00pm; Grupo Cartel de Salsa, 6:00pm – 8:00pm.
Hacienda Mar de Cortez: open as usual with an Easter Sunday Brunch 9:00am – noon.
Tortuga's Restaurant: open as usual with an Easter Sunday Special: Surf and Turf (Rib Eye and garlic shrimp) served with a glass of wine for 510 pesos.
Country Club: open daily from 9:00am a 9:00pm. Enjoy the pool for only 60 pesos. Food specials: Ceviche de Camaron 150 pesos (litre), Ceviche de Cochito 130 pesos, and Clamatos Preparados 50 pesos.
Mimi's K-Fecito: open daily from 7:00am to 3:00pm (closing earlier than usual).
Sunset Bar & Grill: open as usual, except will close slightly earlier, at 10:30pm.
Open, with business as usual:
Closed:
HammerHead's Dockside Bar & Grille: Closed Thursday, Friday, Saturday and Sunday.
La Palapa Griega: Closed Thursday through Sunday.
Froggy's Bar: Closed Friday and Saturday.
Colibri Restaurant & Bar: Closed Tuesday – Monday, will reopen on Tuesday, April 18.
Other Businesses / Organizations:
Dr. Maricela Arizmendi (dentist): closed Wednesday, Thursday, and Friday. Email for appointments: dentalsancarlos@hotmail.com
American Dental: closed Thursday, Friday, and Saturday.
Lupita's Salon: closed from Wednesday to Monday. Open on Tuesday, April 18.
Luly's Salon y Spa: open until 3:00pm on Thursday and Friday; closed on Saturday.
Yacht Club is closed all week and the Burger & Movie night is cancelled this week.
Castaway Kids Thrift Store: closed Saturday.
CIBanco: closed at 4:30pm on Wednesday; closed Thursday and Friday
Athleticlub San Carlos: closed at 1:30pm on Thursday and Friday; there will be no classes on Thursday or Friday, except for pilates reformer. Closed on Saturday.
San Carlos Gym: closed at 4:00pm on Thursday, closed on Friday, and Saturday. Pool Open for Semana Santa parties. Call Bev at 622-109-8795 (cel).