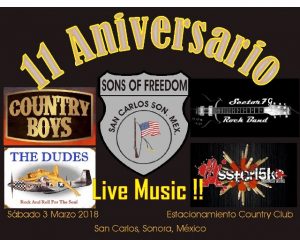 On Saturday, March 3 the Sons of Freedom are holding their 11th anniversary at the San Carlos Country Club.
There will be live music all afternoon and evening. The Country Boys kick off the event at 2:00pm followed by Sector 7G then The Dudes with Mario Sand and ending with Assterisko starting at 9:00pm.
This event is open to the public and is free. This is a party for the community to thank everyone for helping the Sons of Freedom help the less fortunate in our area.
Come by to see the bikes, enjoy beverages and food and listed to live music.