Cancelled 2023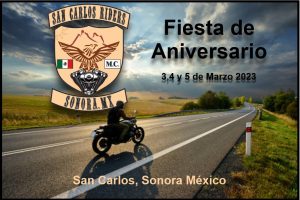 From Friday, March 3 – Sunday, March 5, the San Carlos Riders are holding their Annual Anniversary Party at the San Carlos Country Club.
There will be live music all afternoon and evening from 4:00pm – 1:00am. 2023 schedule coming soon.
This event is open to the public and is free. This is a party for the community to thank everyone for helping the San Carlos Riders help the less fortunate in our area.
Come by to see the bikes, enjoy beverages and food and listen to live music.
There will also be an ice-breaker at Hair of the Dog on Friday at 6:00pm.
2022 Schedule:
Friday, March 4:
6pm: Ice Breaker at Hair of the Dog
Saturday, March 5:
4pm – 1am: Live Music at the Country Club with Country Boys, Utopia and The Dudes.
Sunday, March 6:
9am: Pozole and Bloody Mary's
Keep Exploring … San Carlos Mexico:
Where to Stay. Check out the options on Booking.com: