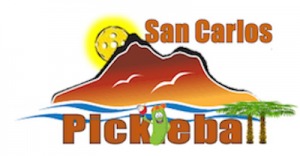 Come out to the new Mirador Pickeball Courts and play in the Sizzlin' Summer Round Robin Pickleball Tournament on TBA.
This is a round robin format, men's doubles and women's doubles, where each participant will play several games against people of roughly equal ability (i.e., beginners against beginners, etc). All levels are welcome. You don't need a partner.
Be at the courts at 7:45am for court assignment. Play begins in the morning at 8:00am.
There is no fee for members of the Mirador Courts. Read about benefits of membership and how to join.
The fee for non-members is 150 pesos.
Registration for the tournament begins Monday, July 24. To register, please print and complete the Registration form. Drop it and your payment off (if you're not a Mirador Court member) at Seaside Realty.
If you're not playing, come out to watch your friends and enjoy the beautiful views.
Don't miss out on this friendly and fun event at the new Mirador Courts.
Summer's sizzlin' … if you can't stand the heat, get out of the kitchen!