Tetakawi is a strenuous hike, but you are rewarded with 360 degree views over San Carlos from the top. Even if you only go part way, you will begin to see up and down the beautiful coast.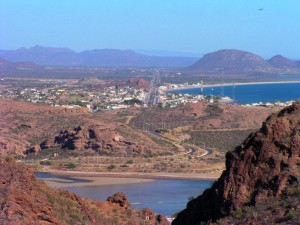 The route up Tetakawi
There are two marked trails to the top of Tetakawi: road-side and beach-side. Here is info on the road-side route …
To get to the trail head, take the main road through sector Bahia to the km 15 marker. There is a small parking lot with a trail-head sign. You can also park on the side of the road. Park and start for the top.
It will take about 2 hours to go to the top and back … depending on how long you stay at the top to admire the view and take photos.
Follow the trail markings painted in white on some rocks.
After about a 30 minute hike uphill, but on a relatively easy trail, you'll reach a point with spectacular views like the one in the photo above. Even if you only go this far, it's worth it.
After that, footing becomes unstable on loose rock and very steep inclines … the top portion is basically a scramble up and a slide down on your butt.
There are a series of ropes that help. You may want to wear gloves for this portion.
It might look like a rock slide, but the photo to the left shows the trail. There's loose rock so be careful of your footing. Hiking poles will come in handy here.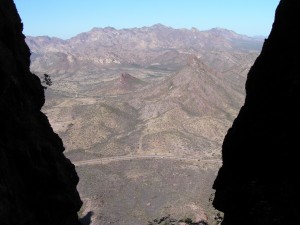 Pictured right … the view from the top of Tetakawi before you go through the crawl-through to the other side.
It's all down hill from here. That's the car way down there on the road.
Check out the views from the top in the videos below.
Tips for Hiking Tetakawi
Bring plenty of water … maybe a snack
Wear gloves
Wear proper footwear … hiking shoes are best
Bring sunscreen, sunglasses, hat (there's no shade on the trail), cell phone (call 911 in emergency), camera!
A hiking pole will come in handy
Go earlier in the day to avoid the heat
Watch for the trail markings painted in white on rocks
Watch for falling rocks from hikers ahead of you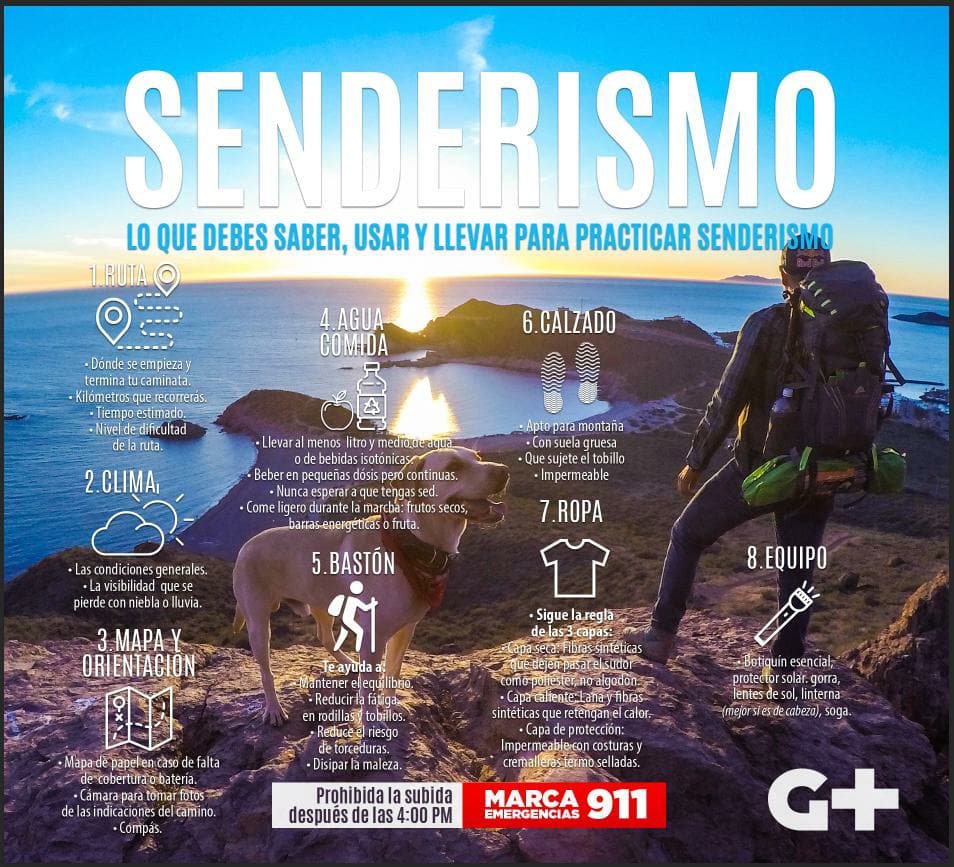 Summiting Tetakawi and enjoying the view
If you climb to the top of Tetakawi, you'll be rewarded with this 360 degree view over San Carlos, the beautiful mountains and turquoise waters.
Adventurous slackline walk between the tetas
Looking for more things to do in San Carlos Mexico? You could hike Nacapule.