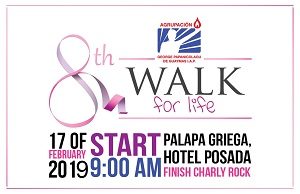 The 9th Annual Walk for Life will be held Sunday, February 16, starting at La Palapa Griega at 10:00am with the 5 km walk at 9:00am. This is the fundraiser for Mexicans with cancer who cannot afford treatment, sponsored by AGP in Guaymas. Male or Female. Your support in the past has made this event more successful every year and we hope you will support it again.
February 15. High Tea and Silent Auction for the Caminata por la Vida / Walk for Life . 2pm – 4pm, Yacht club.
Over 60 baskets and art items will be available for bidding at the event. The silent auction is the real money maker for the Caminata por la Vida and there will be some great deals and great art available.  We will have live entertainment, a signature cocktail, snacks, and tea (of, course). So please come, wear your favorite vintage or unique hat and show your support.
… details from 2019 …. 2020 info coming soon
Registration: Adults – 200 pesos before February 17 or 250 pesos the day of the event. Registration includes a T-shirt. Students – 100 pesos before February 17 or 150 pesos on the day of the event. Dogs are welcome with a purchase of a bandana for 30 pesos.
Early T-shirt pickup and Pre-Registration: You can pre-register anytime at the Athleticlub San Carlos. T-shirts and tickets may be picked up at the following places and times:
CIBanco: February 4, 6, 11, and 13, from 10:00am – noon.
Sombrero Showdown International Pickleball Tournament: Friday, February 8 from 10:00am – 12:00pm.
Rescate Bazaar: Saturday, February 9 and 16 from 10:00am – 12:00pm.
El Mar restaurant: Sunday, February 10.
Tecali Club House, February 15th from 10:00am – noon.
There are many amazing volunteers also selling, ask around…
There will also be tickets available on the day of the event, on February 17. Get yours early so you can come prepared on the 17th and not have to wait in line! We had 432 walkers last year and it was a touching experience, because unfortunately, we have all been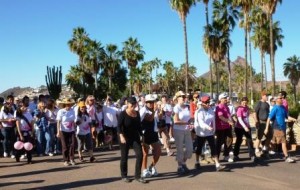 affected by cancer. Our goal is 500 walkers — let's do it!
Following the walk there will be lots of entertainment, great food at La Palapa Griega, and FABULOUS raffle prizes and the best silent auction in San Carlos. 
There'll be many, many baskets of goodies followed by a drawing for 3 International baskets — Canada, Mexico and the United States. Plus a booze basket!
Once again, all the funds go to AGP for cancer detection, prevention, etc.
Make it a day and help save lives….see you there!
For more information, join us on Facebook.
Funds raised will go to Agrupación George Papanicolaou De Guaymas I.A.P. to provide mammograms, breast cancer awareness and more… for the women of San Carlos and Guaymas who could use support.
Walk for Life / Caminata por la Vida Photos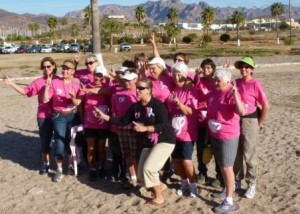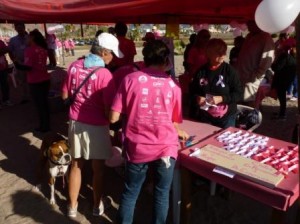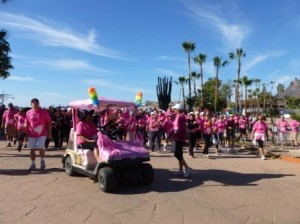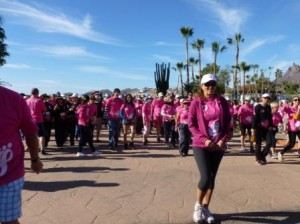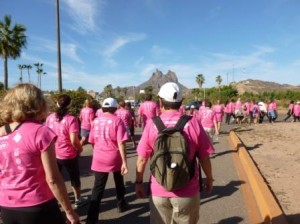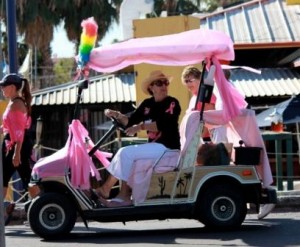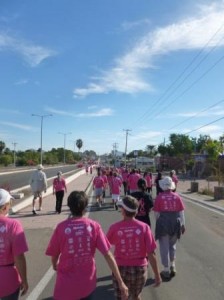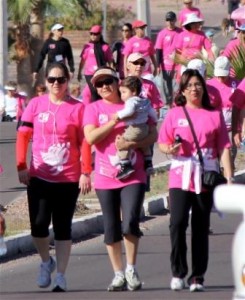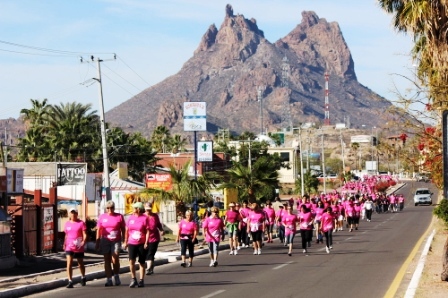 Keep Exploring … San Carlos Mexico:
Where to Stay. Check out the options on Booking.com: