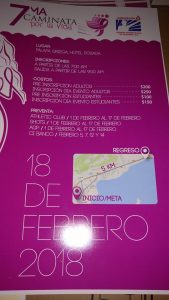 Registration is now available for the 7th Annual Walk for Life / Caminata por la Vida.
This 5 KM walk supports Breast Cancer Awareness for women in our Community. It will be held on Sunday, February 18, 2018. The walk begins at 9:00am at La Palapa Griega / Posada Hotel beach. Come and show your support by walking with us.
Pre-registration is 200 pesos per adult and 100 pesos per student. Included in the cost of registration is an event t-shirt and water along the walk. You may register now at Shot's Bar, Club & Restaurant and the Athleticlub San Carlos.
The cost on the day of the event is 250 pesos per adult and 150 pesos per student. On event day, registration begins at 8:00am at La Palapa Griega.
This year, the Walk for Life event will include a number of activities including entertainment, an auction, 50/50 draw, and much, much more.
So please mark your calendars and put on your BEST PINK to participate in this very important San Carlos event. Our community can and does make a difference. For more information, join us on Facebook.
Funds raised will go to Agrupación George Papanicolaou De Guaymas I.A.P. to provide mammograms, breast cancer awareness and more… for the women of San Carlos and Guaymas who could use support.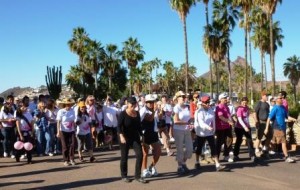 Walk for Life schedule:
6:30am: Set Up – Volunteers Arrive (6:30 to 7:00)
8:00am: Registration starts
9:00am: Walk begins
10:00am – 10:30am: Walkers welcomed back
10:30am: Entertainment
11:00am: Silent auction – first 10 baskets
11:45 Entertainment – Moctezuma with Lugo Torres
12:45 Silent Auction – 3 more rounds of 10 Baskets are sold, 50/50 Draw, Booze Basket
Walk for Life / Caminata por la Vida Photos