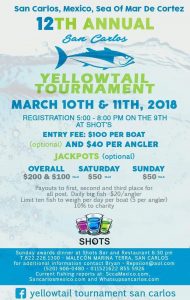 The 13th Annual San Carlos Yellowtail Fishing Tournament will take place on Friday, February 15 to Sunday, February 17, 2019. Details to follow
Here is the info from 2018:
Registration will take place on Friday, March 9 between 5:00pm and 8:00pm at Shots.
Entry fee is $100 USD per boat and (optional) $40 USD per angler. There are also several jackpots that can be bought into.
You may leave whenever you like Saturday and Sunday morning (within reason). No fishing before 8:00am, lines out of the water at 3:00pm. All boats must be in by 5:00pm.
The Awards Dinner will be held on Sunday, March 11 at 6:30pm at Shots.
For additional information, please contact Bryan at repsilon@aol.com or 520-232-2103 or 622-855-5926.
Yellowtail Fishing Tournament Photos