Biking San Carlos can be bumpy and dusty, but the views are worth it. You can choose from road routes and trails.
Biking San Carlos Sonora options:
You can bike on the road to the Mirador for a great cardio workout that ends at a fantastic view down the coast.
If you follow the paved road to the end, it meets a dirt road that will take you to La Manga and into the desert (map). You can put together dozens of kilometers of singletrack, doubletrack and ranch roads.
If you're feeling really energetic, try  the 1500-foot "Microonda" outside Guaymas … it starts behind the jail and rises steeply for a great view of Guaymas.
Estuary Bike Ride (Estero del Soldado)
A Guaymas mountain bike association has built a challenging 11 km single-track loop trail through the desert.
This rugged trail is not for the faint at heart. The views over the estuary are beautiful.
More about Estero del Soldado bike ride.
El Ocho (El Baviso + Nacapule Trail)
Seems like El Ocho is everyone's favorite. It's a 10 km mostly flat, fast, fun single-track trail.
This is the trail that's used for the 6 hour night ride and 12 Horas Salvando Vidas.
It's a good trail for beginners but also has some arroyos, sand and loose rocks and lots of twists and turns.
Road to Nacapuli Canyon
Uphill pedal through the desert to Nacapuli Canyon and relaxing ride home with view of water in the distance.
More about Nacapuli Canyon.

Bahia Biking
A short but enjoyable ride to a quiet cove.
You can bring your snorkel gear.
Local MTB groups run several bike races each year:
Estero del Soldado Mountain Bike Race
12 Horas Salvando Vidas
Resources:
Sign-up for the free weekly newsletter for up-to-date info on events and what's happening in San Carlos.
Join the San Carlos Bike group on Facebook. and follow San Carlos Team Extreme.
San Carlos bike trails on Trail Forks.
San Carlos Mountain Biking Trail Map
MTB Sonora Calendar 2019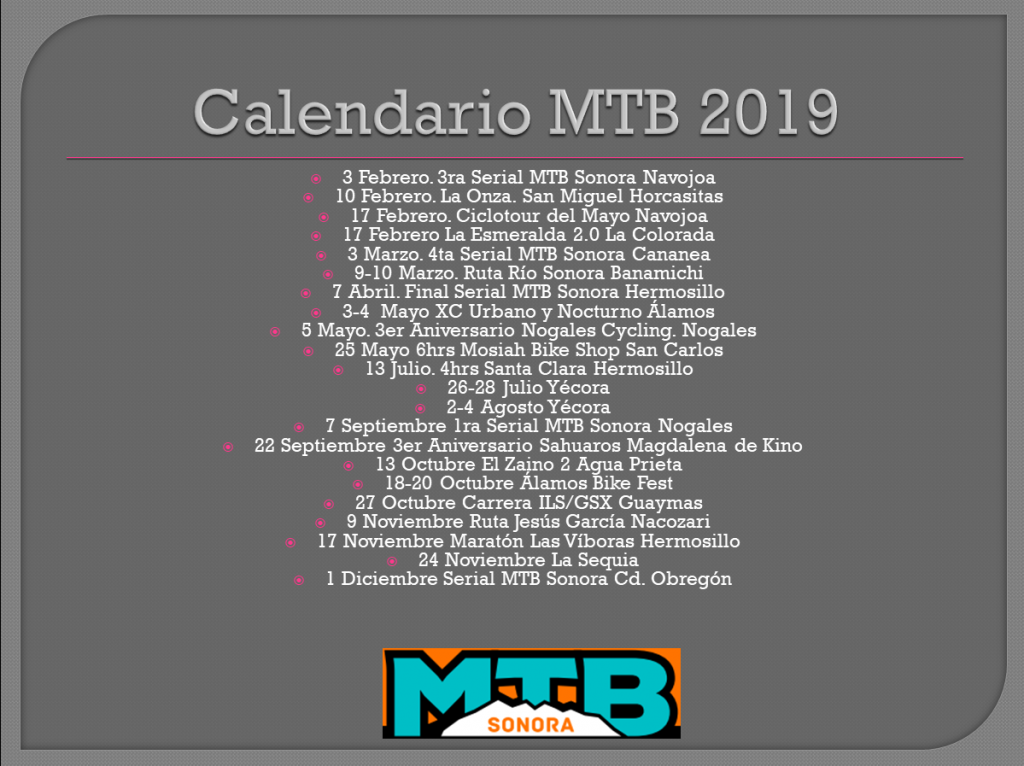 Videos: Biking San Carlos
Mountain Bike Pista de Estero el Soldado San Carlos Sonora
Aguamalas trail Guaymas
El Ocho