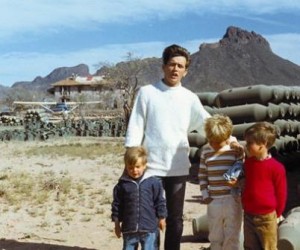 Movies filmed in San Carlos: Catch 22, Mask of Zorro and Lucky Lady were all filmed here.
Pictured to the right are Martin Sheen, Emilio, Ramon, and Charlie on the set of Catch-22 in San Carlos Mexico. The movie starred Alan Arkin, Orson Welles, Martin Sheen, Bob Newhart, Anthony Perkins.
You can ATV and horseback ride to the movie set and see the Catch 22 airstrip and constructions used in the filming.
Watch a snippet of the film Catch 22, which was filmed in San Carlos in 1969 – 1970.

The Mask of Zorro, with Antonio Banderas, Anthony Hopkins and Catherine Zeta-Jones was also filmed in San Carlos

Lucky Lady with Liza Minnelli and Gene Hackman