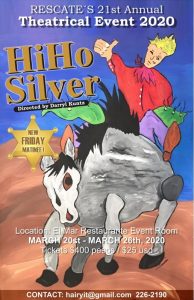 HiHo Silver! Opening night is coming soon! 
This year's Rescate Theatrical Event will run from March 22 through the 26, at 7:00pm in the Event room at El Mar Restaurant.  Doors and bar will be open one hour before the performance begins.  As always, the performance will feature lots of laughs in a not-to-be-missed comedy show!
New this year, the final afternoon dress rehearsal will be open to the public for the reduced price of 250 pesos.  It will be held on Friday, March 20 at 1:00pm.
Evening performance tickets are 400 pesos again this year, and are available now at RE/MAX Realty, Seaside Realty and Coldwell Banker as well as from any cast member.  Rescate 18 and 24 karat Gold Card Members attend for free but tickets must be obtained in advance from RE/MAX Realty.
If you have questions or need tickets, contact Harriet at 226-2190 or hairyit@gmail.com.
Proceeds help support Rescate de San Carlos Ambulance and First Emergency service.
Rescate Theatrical Event Casting Call, January 7, 2019
Actors and actresses are needed to make the annual Rescate Theatrical Event the best ever. No previous acting experience is needed. Actors and Actresses to fill major and minor
roles in this years production. Production staff needed as well.
Do you yearn for the thrill of being in a live production, on stage, performing in front of your friends? Then come to Club Deportivo on Monday, January 7 at  3:00pm to show your stuff.
This years production is cuckoo!. No, REALLY, the name is "Cuckoo"! We need your help. It's always fun and a great way to exercise your brain….Join us and help RESCATE.
For more information, contact Harriet at hairyit@gmail.com, 226-2190.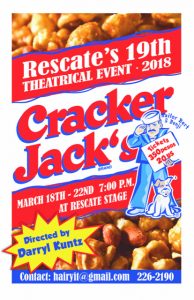 2018 Theatrical Event "Crackerjacks!"
Rescate Melodrama Rerun, April 6, 2018:
We will be screening the DVD of this year's Rescate Theatrical Event "Cracker Jack's" at Dusty's Deli this Friday, April 6 at 6:00pm. The kitchen and bar will be open for food and drink orders. The cast and crew will be there seeing themselves for the first time. A 50 peso donation to Rescate will be collected.
The DVD was filmed in HD with excellent resolution.
The menu at Dusty's is great and the company will be fun. The cast and crew will be there for autographs, photos, etc! Come mix it up with the "mental" cases. Sure to be a fun night.
Thank you again to the community for supporting Rescate.
Rescate Melodrama Videos
Rescate Melodrama Photos
Rescate Melodrama photos by Bob Mettlewsky
Keep Exploring … San Carlos Mexico:
Where to Stay. Check out the options on Booking.com: