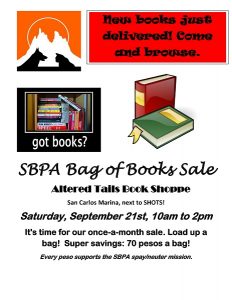 SBPA Altered Tails Book Shoppe will have a (gently) used bag of books sale on Saturday, September 21, 2019 from 10:00am to 2:00pm.
At the SBPA Used Bag of Books Sale, there are thousands of books available for your reading pleasure. Help reduce our inventory. There are cheap books by the bag.
The Book Shoppe is located on the malecon of Marina San Carlos.
While at the Book Shoppe, remember to pick up your copy of the SBPA's 2019 Calendars.
Please support your local spay/neuter organization.  Every peso supports the SBPA spay / neuter mission.
The SBPA continues to make a difference in our community by providing Spay and Neuter Certificates and holding free spay and neuter Clinics.