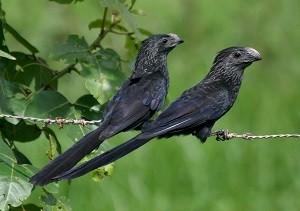 This week the San Carlos Birding Group visited three settlement ponds. The first was the Country Club pond and this is my Place of the Week.
To get there, go through the gated entrance to the Country Club – just tell them you are going to look at the birds. The streets are public even if there is a gate. It will be on your right about ⅓ mile further. You will need to walk in but it is only the equivalent of about one block. This little pond is a magnet for migrating ducks. This week we had Buffleheads, Lesser Scaup, Northern Shovelers and Ruddy ducks and, of course, Coots.
We also had a wonderful viewing of Groove-billed Anis (pictured). This is my Bird of the Week. This bird would be a life bird for many because it is only seen in a small section of the US along the Gulf of Mexico. We are lucky to find them in many places around here. My first viewing was a group congregating at a garbage bin outside a restaurant in Guaymas. They are very social and you will almost always see them in a group. iBird Pro describes the bill as huge and the tail as half the length of the bird. Totally black and with a preference for overgrown fields and thickets. iBird Pro also says they forage by following livestock to catch insects but will take fruits, berries, small lizards, frogs, and snakes. It's a very nice bird to have around, in other words. We have also seen them in the mangroves by the Esterito Cafe. If you see a bunch of black birds, take a second look — they could be the Anis.
The other ponds were great also and we spotted a Wilson's Snipe, Soras, a Belted Kingfisher, Northern Cardinal, Vermilion Flycatchers, Black Phoebes and assorted other little guys for a total of 40 species.
This coming Thursday, we are starting 30 minutes later. It's getting dark and cold in the mornings. (I tell you this but I would not dare say that to family in Seattle. They do not consider low 60's as cold.) Meet us at the Esterito Cafe at 8:00am. We will be doing estuaries to see Shorebirds. I'm starting to see more Long-billed Curlews and they are a bird that should not be missed.
As always, feel free to e-mail me with questions and/or comments at [email protected]
Happy Birding! By Mary Tannehill