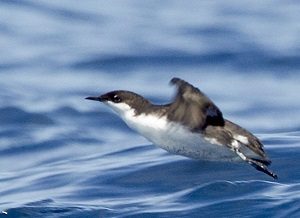 This week's birding adventure was split in two. Fred Gaunt and I went on a pelagic birding trip out into the Sea of Cortez. Al Sjogren volunteered to lead the regular birding expedition. Unfortunately, it rained Thursday morning and there was only one fellow birder that joined Al. They made an executive decision and stayed under cover at Esterito Cafe observing the birds from there and chatting about photography.
Meanwhile, Fred and I joined Bill West, owner of WingsWest Birding, and his small group for a trip into the sea. Pelagic birds are birds that only come to land for breeding. The rest of the time is spent flying above the sea, fishing in it, and resting upon it. Therefore, you will not be observing them from here in San Carlos. For you fishing enthusiasts, you have many opportunities to spot some of these birds as you fish far from shore.
We saw, through the raindrops, the Red-necked Phalarope, Black-vented Shearwater, Craveri's Murrelet, and the Pomarine Jaeger. We also saw the Blue-footed boobies, Elegant Terns, and Eared Grebes, all of which we can see from land.
For the Bird of the Week, I have chosen the Craveri's Murrelet. I chose it for two reasons. 1. It is adorable; and 2. It is a bird almost exclusively seen in the Sea of Cortez and the Pacific side of the Baja Peninsula. It breeds in the Sea of Cortez. This plump little seabird is a threatened species that iBird Pro says prefers rocky cliffs and offshore waters. It feeds, like all pelagic birds, on fish. It dives down from the surface for rockfish, herring, and lanternfish. IBird Pro says the Craveri's Murrelet is "reminiscent of a small, flying penguin." In other words, irresistible.
This coming week, we will meet again at the Esterito Cafe at 8:00am. From there, we will hit settlement ponds including one we have not visited before.
As always, if you have questions or comments, feel free to contact me at [email protected]
by Mary Tannehill