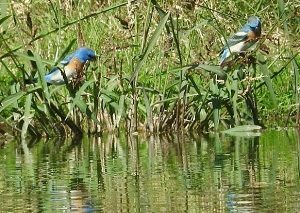 The San Carlos Birding group met this past Thursday and will continue to meet until late May. Our group dwindled to 10 this week because of human snowbirds heading north along with many of our winter feathered friends. However, smaller groups are perfect for birding so if you are still here, come join us.
We visited Piedras Pintas (a good place for the Green-tailed Towhee), and then proceeded to the lagunas de oxidacción for Plaza San Carlos Hotel and the old Paradiso. We had over 40 species and a lively time trying to identify a duck we had not seen here before. It turned out to be the Female Ring-necked Duck and it took enlarging a photo at home to be able to see the characteristic white eye-ring and white ring-like patch on the bill. Lunch was at the always excellent Doña Rosita's out at La Manga.
The magic of birding is that one never knows what will show up in an old favorite place. On Sunday, a friend and I returned to the settlement pond (laguna de oxidacción) for Plaza San Carlos. The growth around the ponds has inhibited viewing and we were enjoying the tranquility but not seeing too much, when four Lazuli Buntings arrived and stayed, showing us their incredible beauty, for almost 30 minutes. So, naturally, the Lazuli Bunting is the Bird of the Week.
IBird Pro says this bird is a small finch that summers in western United States and winters in western Mexico. You can see for yourself from the image the vivid blue coloring. They prefer dry, brushy ravines and slopes, as well as cleared areas and weed pastures. They are mainly a weed and tree seed eater but will tackle some insects. If you would like to attract them to your feeder, try safflower, apple slices, suet, millet, peanut kernels or fruit.
This coming week, the group will be going to Estero Soldado (keeping an eye out for the Ridgway Rail which I saw a week ago) and also to the Country Club settlement pond. This is the time of year we sometimes see the Purple Martin there. Meet at the Esterito Cafe at 8:00am. Folding chairs work well at the Country Club.
As always, if you have comments or questions, you may contact me at [email protected]
by Mary Tannehill