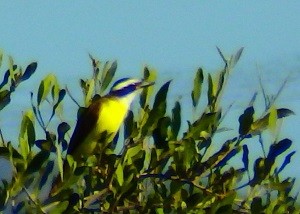 We had a hardy group of 9 for birding on Thanksgiving Day. We tried a new place just off the bypass road to Empalme. As you come from San Carlos, you turn left just past the second large electrical tower and go about ¼ mile. This is actually the far northwest part of the Empalme Estuary. The earth has a lovely green succulent ground cover and the wading birds are quite close. We had good views of the Little Blue Heron, Great Blue, and Great White Egret. We also saw a Pyrrhuloxia (think Northern Cardinal but not bright red), and Ospreys. I'll call the NW Empalme Estuary our Place of the Week.
The group stopped off prior to the NW Empalme Estuary at Estero Soldado. Since this was to be a quick trip due to Thanksgiving, we really just intended to try and spot the Roseate Spoonbill which a friend of mine saw recently. No such luck but we saw an American Avocet and four different kinds of Terns: Caspian, Royal, Elegant and Forster's. We had a good viewing of a Cactus Wren as well.
The Empalme Estuary just off the southern tip of the causeway was limited due to high tide but we had close up viewing of the Black-necked stilts and most of the group saw the Great Kiskadee, my Bird of the Week. This large, bright yellow flycatcher is always a treat to see (pictured above). We are about as far north as it gets and I don´t think I have seen it anywhere around here except at Empalme. We see it often when we continue south to Ciudad Obregón. IBird Pro says it prefers rivers, streams and lakes bordered with dense vegetation. Empalme has dense mangroves and some brackish water that seems to count for a lake for our Kiskadee because I have seen him here for several years. It is usually hanging around (in the thick vegetation around the brackish pond).
All in all we had about 38 species. This coming Thursday, December 3rd we will visit the Country Club settlement pond and El Palmar. Ducks are starting to show up. I have been seeing Buffleheads this past week and on Saturday spotted a Northern Shoveler as well as our Ruddy Duck which has been here for at least two weeks. All are welcome to meet us at Esterito Cafe at 7:30am.
As always, feel free to e-mail me with questions and/or comments at [email protected]
Happy Birding! By Mary Tannehill