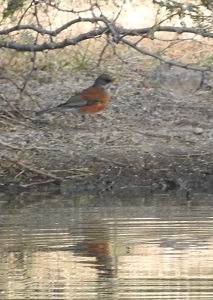 Last week I wrote about the San Carlos Birding Group's participation in the 116th Annual Christmas Bird Count. We finished our count and I have sent our results to the Circle Compiler, Terry Brownell. We had a total of 57 species and 473 birds for our three settlement ponds: Country Club, El Palmar (settlement pond for San Carlos Plaza Hotel) and, what I refer to as the Paradiso pond, which is a settlement pond for areas in the far west of San Carlos.
The highlight of the count was to be informed by Terry that our count included two birds that in the last 20 years of counting in this area have never before been sighted. These were the Cedar Waxwing and the Rufous-backed Robin. Hearing that, how could I not include one of these as the Bird of the Week? So how to choose? Alas, I am only allowed one photo.
The Cedar Waxwing is a gorgeous bird that I have enjoyed seeing in my summer location of Seattle. According to iBirdPro, it winters all over Mexico and the southern half of the United States. But, somehow, it has not made it to San Carlos before. We saw four at the Paradiso pond but five were also sighted Tuesday at the Country Club pond by one of our members. So, look for it in your backyard (after you Google it because it is not my Bird of the Week).
I have to give that honor to the Rufous-backed Robin (pictured above). This is a Mexican thrush that occasionally wanders briefly into Arizona. All the range maps show it significantly south and also east of us. It is similar to the American Robin but has a lovely rufous back and a white throat with black streaking. iBirdPro lists it as non-migratory and, if so, we can hope that San Carlos is a new home for it and that many of us will be able to see it. However, it is much shyer than the American Robin and likes dense thickets. The times we have spotted it, it was coming for a drink at the ponds. iBirdPro says it eats mainly fruits, but also insects and worms. They also say it will readily eat raisins, currants and nut meal for those with bird feeders who would like to try and entice it. It seems to prefer shade.
This week our Birding group will meet as usual even though it is Noche Buena (Christmas Eve). We will meet at 8:00am at the Esterito Cafe and then head to the estuaries (esteros) ending at the Empalme estuary. On Monday I spotted 3 Roseate Spoonbills in the far, far corner of the Miramar (or El Tular) estuary. This is an indication that they are starting to arrive and we will be seeking out this beautiful pink bird. Even though the range maps show this bird as a year round resident, iBirdPro also says that some migrate and my experience is that the ones around here are coming from somewhere else because we see far more in the late winter than in the fall.
All are welcome to join us. You can e-mail me with questions and/or comments at [email protected]
Felices fiestas! By Mary Tannehill