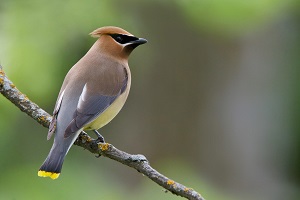 We had 20 people out for our birding outing Christmas Eve Day – the largest number of birders this season! We drove to the northeast side of Estero Soldado where, besides the usual shore birds, we were treated to a visit by the Crested Cara Cara. Then we moved on to a finger of the Empalme estuary off the bypass road where we saw the Western Meadowlark as well as excellent views of the Black-crowned Night Heron and Vermilion Flycatcher Male. Before we finally visited the Empalme Estuary just off the causeway, we stopped and climbed up to a lookout point off the bypass road that gives excellent views of the whole estero. It's a beautiful vista! We could see the Roseate Spoonbills in the distance but still have not seen them close up. White Pelicans and Black Skimmers were also visible. The Empalme Estuary off the causeway was not real birdy, but we had good views of two Great Kiskadees.
This week's Bird of the Week is the Cedar Waxwing (pictured above). I mentioned last week that this was one of two birds sighted by our Christmas Bird Count group that had never been sighted before in the 20 year history of the San Carlos count. It is just too gorgeous a bird to not share it with you and give it its Christmas Bird Count glory. It winters all over Mexico but prefers open woodlands, orchards and residential areas. That does not sound a lot like San Carlos, does it? We have seen it twice at a settlement pond with lots of bushes providing easy access to insects. It prefers berries but the bushes we saw it in did not have leaves, much less berries. If you want to attract it to your feeders, iBirdPro suggests apple slices, currants, or, get this, canned peas. If you do see it, drop me an e-mail. I would like to know if it is still hanging about and, if so, where.
The Birding Group will meet, as usual, on Thursday morning at 8:00am at Esterito Cafe. This cafe is at the end of the Bahía San Carlos. After birding from the patio of the Café, we will head somewhere else. I am still mulling the possibilities. All are welcome.
You can e-mail me with questions and/or comments at [email protected]
By Mary Tannehill