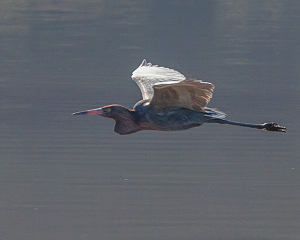 David Jasper led a group of 18 this past Thursday (while Al and I were in Veracruz) and they saw 73 species at various locations. They finished with lunch (always an important part of our birding) at the Soggy Peso. They had excellent views of the Rufous-backed Robin which, until recently, many birders did not think visited our area.
But the Bird of the Week is the Reddish Egret. Fred Gaunt captured such a stunning photo the week before last that I just had to highlight it. We are lucky to have a very large number of Herons and Egrets in our San Carlos area. Great Blue Heron, Little Blue, Green, Tri-colored and Yellow and Black-crowned Night Herons are all here.
In addition, we have the Great, Cattle, Snowy and Reddish Egrets. You might well ask what is the difference between an "Egret" and a "Heron", and the answer according to web sources I checked is – not much. Wikipedia describes an Egret as "a bird that is any of several herons, most of which are white or buff, and several of which develop fine plumes". The Reddish Egret in our area is not white but there is a white morph (think of morph as a different version – same bird but a white version). This is not a common heron (remember egrets are part of the heron family) like the Great Blue.
In the United States, it is found in southern Florida and along the Gulf Coast to Texas. In Mexico, it is found along both coasts. It prefers marshes, shallow bays and lagoons. It is common in our estuaries (esteros). It eats fish, frogs and crustaceans. When it is foraging, it is very distinctive because it runs along with its wings raised, which according to iBird Pro, is to cast a shadow to cut down on glare. They are very entertaining. Note the bill: black at the end turning pink as it approaches the face.
The Birding Group will meet, as always, this Thursday morning at the Esterito Cafe at the end of Bahia San Carlos at 8:00am. All are welcome. Please bring your binoculars.
by Mary Tannehill