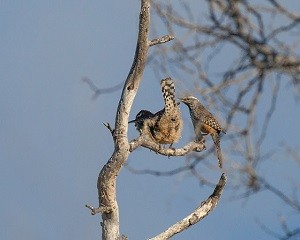 This past week I missed the Birding Outing because 4 of us went to Alamos to bird and bike.
David Jasper, a naturalist and excellent birder, was gracious enough to lead the group in San Carlos on Thursday. They started at the Esterito Cafe, went up the Esterito Road, on to the El Palmar ponds and finished at the little estero near Soggy Peso with over 60 species. Highlights were Cactus wrens showing mating behavior and a wonderful viewing of a Bobcat (see below) or Gato Montés in Spanish, out at one of our favorite places, El Palmar. It is quite amazing what one can see in this area when out birding.
So my Bird of the Week is the Cactus Wren. Our photo pictured above was taken by Fred Gaunt on the outing this week and shows two together in mutual attraction mode (mating behavior.) This is one of the most common and easiest to see of the numerous wrens to be found in the San Carlos area. It is also the largest, another factor in making it easy to spot.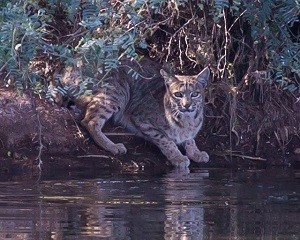 Its name is very fitting because it often sits on cactus in plain view as opposed to those other small secretive wrens who love to hide and taunt me with their songs. Besides just sitting on cactus, it likes to build its nest of sticks in them also. iBird Pro says they eat insects, including ants, beetles, grasshoppers, and wasps and if you want to attract them to your feeder, try apple slices and peanut butter (good luck on finding peanut butter, however.)
Our outing this week, as usual, will start at the Esterito Cafe at the end of the Bahía San Carlos at 8:00am. The plan will be to hit the estuaries looking for Roseate Spoonbills (we are spotting more and more of them) and other shore birds such as the Long-billed curlew and Black-necked Stilt. All are welcome.
You can e-mail me with questions and/or comments at [email protected]
By Mary Tannehill