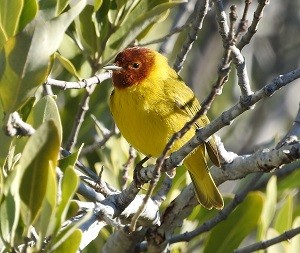 The San Carlos Birding Group outing was quite exciting for us bird lovers this week. We saw 64 different species and had a wonderful sighting of the Mangrove Warbler. We started at the Esterito Cafe where we saw the Common Black Hawk. We had not seen this very uncommon hawk for several weeks so it was nice to have him back. I tend to divide birds into two very unscientific categories: sitters and flitters or posers and flitters. The Common Black Hawk is a sitter/poser, so everyone had very good views of him.
We then headed to the Estero Soldado at Pilar. We took the walk along the mangroves towards the estero opening. A large flock of Lesser Goldfinches was flitting from bush to bush. Their bright yellow breasts looked like yellow Christmas ornaments decorating a tree. It was there we spotted our Bird of the week:  the Mangrove Warbler. Warblers are definitely in the flitter category, but this cutie sat still for at least five minutes giving great photo opportunities. My theory is that he was warming up in the morning sun because after about five minutes, he began to move, slowly at first, from branch to branch before reaching full flitter throttle. Bird books show the Mangrove Warbler as a subspecies of the Yellow Warbler but we are hearing there is a good possibility he will be his own species in the future. If you want to attract the warbler to your feeder, iBird Pro suggests you try sugar water, fruit and nut pieces.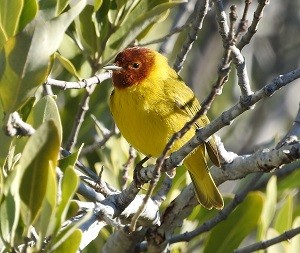 This place could not be easier to find. Follow the signs from Beltrones to Condominios Pilar and park in the Estero parking lot just east of Pilar. We followed the path closest to the mangroves rather than heading right to the beach. Besides the Mangrove Warbler and Lesser Goldfinches, we saw a Western Meadowlark and three different kinds of hummingbird.
Our Birding Group will meet, as usual, at the Esterito Cafe at the end of Bahía San Carlos on Thursday morning at 8:00am. From there we will head to the settlement ponds on the west side.
All are welcome. Bring your binoculars.
By Mary Tannehill