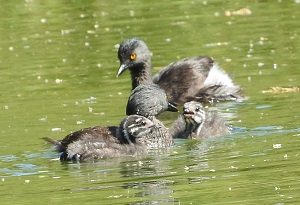 Hola Birding Enthusiasts,
Time Alert: This week's birding outing will start at 7:30am at the Esterito Cafe on Thursday. This is 30 minutes earlier than prior outings.
This past week was quite birdy. Five of us went birding in Empalme, Guasimas and at the El Shaka Restaurant between Empalme and Guasimas. The highlights were excellent viewings of the Mangrove Swallow and the Savannah Sparrow, Large-billed subspecies as well as many shore birds. The Mangrove Swallow is not seen in the US so you will not find it in your North American guide books. We see this in San Carlos (and the Savannah Sparrow also) but both these birds were plentiful at the El Shaka Restaurant and posing – a rarity especially for swallows. Good eating AND good birding. On Thursday we went to El Palmar settlement ponds to see the Least Grebe and discovered there are two babies, not one (see above photo).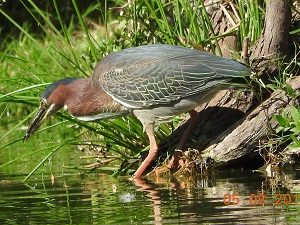 However, when I went out to El Palmar a week ago Sunday, I saw the Green Heron, a first for this location. He posed for me for almost an hour and I was able to get some excellent images of this very reclusive heron. For that reason, the Green Heron is the Bird of the Week (pictured on right).
We usually see the Green Heron from the Esterito Cafe or occasionally at Estero Soldado or the Miramar Estuary. It is solitary, somewhat secretive and blends in perfectly with its background. Since it tends to crouch in shadows waiting for fish to swim by, it can be difficult to spot. I was very surprised to see it at the El Palmar settlement ponds because there are no fish. There were a number of insects hovering over the water and I could definitely see him catching something but could not tell what. It is easiest to see it at dusk and dawn, and Wikipedia describes it as nocturnal and preferring to be in sheltered areas in the daytime. All of which makes my sighting at around 9:30am and in clear view rather strange. Another very interesting fact about the Green Heron is that they sometimes drop food, insects, or other small objects on the water's surface to attract fish. Wikipedia says this makes them one of the few tool-using species and one of the most intelligent of the bird species.
As mentioned above, we are starting our birding outing this week at 7:30am to take advantage of the lower temperatures early in the day and the fact that with more hours of daylight, the birds are getting up earlier. Meet this Thursday at the Esterito Cafe and bring sun and insect protection as well as a folding chair if you have one. We will hit El Palmar to see the baby Least Grebes and other birds and take advantage of the early morning shade there. Remember 7:30am.
As always, if you have any questions or comments, you may contact me at [email protected]
by Mary Tannehill