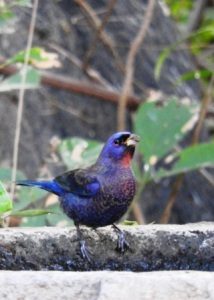 Our last outing of the season had 5 participants and we saw 41 species at Esterito Cafe, and the El Palmar and Paradiso settlement ponds. The beautiful Varied Bunting has arrived in San Carlos and is my last Bird of the Week. This bird lives year round south of us but only summers here in San Carlos. You may not see it if you stay in town because, according to iBird Pro, they spend most of their time concealed in dense desert brush, coming into view only when the male sings from the top of a bush. Our experience has been at the settlement ponds where we have seen both the male and female come to drink and take baths. However, once they do that they quickly disappear. The Varied Bunting will be found in your guides to North American Birds because it goes into a little bit of Texas and Arizona but it is mostly occurs across Mexico and south to Guatemala. It eats seeds and insects and forages in low, dense vegetation and on the ground. I hope if you are still here that you are able to see it. It is very special.
Now that most of you are back in the US and Canada, this is a good time to think about buying binoculars and/or a camera to bring down for birding next season. We had a lot of people join us during the winter who were a little frustrated as they tried to share a pair of binoculars or had a pair too small or not powerful enough.
A Google search under "binoculars for birding" will give you many recommendations. When you read the reviews, look again for reviews from folks that bird. A good pair of binoculars can last for many years, so buy the best you can afford. There are binoculars in the $300 range that are excellent (I have a pair), but you can easily spend $3,000. Well, maybe you can but definitely not me.
This year I am splurging on some compact travel binoculars so that I can always have a pair with me. This last summer was frustrating because it never failed that when I took the dog for his morning walk, I would spot an interesting bird and not be able to see it well enough to identify it, but my regular binoculars were too big and heavy for handling the dog and the equipment. Binoculars are your most important tool in birding and a good pair will greatly increase your enjoyment.
I hope you all have wonderful summers and I look forward to seeing you this coming October.
Bird On! by Mary Tannehill