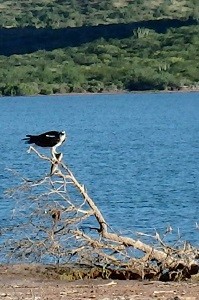 Hello, my name is Mary Tannehill and I am going to be your San Carlos birding hostess for the next few months. I currently lead the San Carlos Birding Group since our esteemed leader, Dave Verner, has, to all our sorrow, moved from the area. I am not an expert birder but am passionate about birds. I will be writing this column to open to you the wondrous possibilities that exist in our little area for observing birds. I will try in each article to cover a place or type of place for local birding, a bird recently seen (not necessarily rare – it is always good to reencounter our old friends), and, sometimes, talk about a tool for birding.
Birding does not require much but to enjoy it the most, you will need binoculars and a bird book (or app). All birders have their favorite books and more and more have apps on their smart phones. You do NOT need a Birds of Mexico book for around here. A good Birds of North America will cover 98% of the birds you see. That is great news because these books are not inexpensive but you can use yours here and wherever else you live if you are a snowbird.
If you are down here and don´t have a bird book but have a smart phone, you will be in business within minutes of hitting your app store and doing a search on bird apps. A Google search will find you many articles recommending good binoculars and Amazon has numerous reviews of its equally numerous bird books. I won't add to that because I have nothing to add that would be better than those sources. I will just say that you do not need to spend a fortune on binoculars to enhance your birding experience. Al, my partner, and I bought Swift Audubons 8.5x, 44 for about $300 USD each and have been very, very happy with them. Come to our birding group and ask questions. Everyone will be happy to share their own experiences with birds, books, and binoculars. Newcomers are welcome.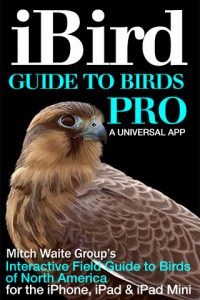 Bird Apps do not replace books but they are incredibly handy. I own I-Bird Pro, Sibley´s Guide to Birds of North America, Audubon Birds Pro (which I rarely use) and I just recently added The Cornell Lab Merlin ID Help app. I probably use I-Bird Pro the most (it has great photos) but it has down sides if you try and use it exclusively. I'll talk about that more in the future but don't worry about it, just get something to help you. I-Bird Pro is much cheaper than Sibley's and Merlin is free but is better as an additional source rather than your primary.
This Week's Bird of the Week: Osprey.
Ospreys are common here but always magnificent. I took the photo pictured above at the estuary in San Carlos. They are a raptor (like eagles and hawks) and feed on fish. You will often see them perched on almost anything high with a good view of the water. We have two that like the unfinished building next to the Conquistadors condos. A few years ago there was an Osprey nesting in a crane visible from the Villa Hermosa area. The crane was not being used due to an unfinished construction project. Human's loss but Osprey's gain. Unfortunately for the Osprey and we birders, the crane was removed finally.
This Week's Place: Champs Pond
One of the things that makes San Carlos so wonderful for birding is that we have desert birds, salt water birds and lots of migratory birds that stop in and use our estuary "bird motels" on their way south in the fall and north in the spring. So places don't move but they can seem new as different birds check in. This week's place is a little spot of water between Champs on the east and Triana condos on the west. It is overflow from recent rains and birds love to take advantage of water holes in the desert. I have seen Lark Sparrows, a Short-billed Dowitcher, Killdeer, and Semipalmated Plovers. Today we saw Vermilion Flycatchers and Least Sandpipers. You can also meander to the Sea (Sea of Cortez or Gulf of California) and see Oystercatchers, Brown Pelicans, an occasional Blue-footed Booby, Heermann's Gulls and, recently, Elegant Terns feasting on the tiny fish near shore. And, of course, there is always a chance of a Dolphin sighting. Spectacular even if they aren't birds. This easy to find little birding spot won't last forever. It drys up but, for now, it is a bird oasis. Parking is available right next to it.
You are welcome to join our San Carlos birding group on Thursdays at 7:30am at the Esterito Cafeat the end of the Bahía San Carlos. We have been given permission to watch birds from the restaurant (not open) for a few minutes prior to departing for our weekly location. All are welcome. I am sorry but we do not have extra binoculars.
I hope that you come to enjoy birding in San Carlos or a taste of it through my articles. Please feel free to e-mail me with comments or questions at [email protected]
Happy Birding!