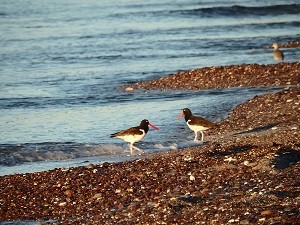 It is a great time to be birding in San Carlos. I have seen this week a Streak-backed Oriole and Rufous-backed Robin. Both birds are not normally in this area (according to range maps) but have wandered a little north to visit us. Keep an eye out for them.
Bird of the Week: American Oystercatcher
Place of the Week: San Francisco Beach 
I picked this bird because we are seeing it all day along San Francisco Beach. I have found this to be common in fall. While the bird is here all year, it is more easily found right now and well worth a hike along the beach. Not that it is such a terrible chore to take a hike along the beach. You will also see Blue Herons, Yellow-footed and Herrmann's Gulls, Wilson's Plovers, Pelicans flying over the water and Elegant Terns in the morning and late afternoon. The little Champs pond that I talked about last week now has two Black-necked Stilts and is right next to San Francisco Beach so you can see two very attractive birds almost at the same time.
The Oystercatcher's bright orange-red bill is impossible to miss. I have found that I almost always see the Oystercatchers in pairs and, according to the literature, they are monogamous.  They just seem so happy as they search for food together. I also find them to be intelligent. When I am walking on the beach and come upon them, they will fly up and circle around behind me. Contrast that with the Willit who will fly ahead of me, time and again, before finally giving up and flying off loudly complaining. Oystercatchers do eat oysters but you will more likely see them consuming something easier like mussels, clams, worms, etc. Like I said, they are intelligent.
The San Carlos Birding Group will be meeting this Thursday at 7:30am at Esterito Cafe. We had ten people last week and birded El Palmar and the Country Club. This coming week, we will be heading to the estuaries: Soldado, Miramar and Empalme. You are welcome to join us. Bring chairs, if you like, as well as your binoculars because we will be able to sit and observe as well as walk around.
Happy Birding! By Mary Tannehill, maryltannehill@yahoo.com