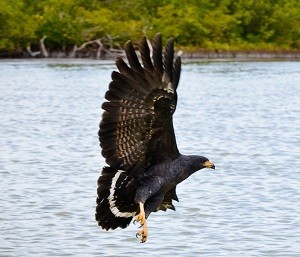 Today's Birding Place of the Week is the Esterito Cafe. This little open-air cafe is located at the end of the Bahía San Carlos next to the fish camp. It is an excellent birding place and the proprietor has been very welcoming for us to drop by there even if they are not open yet. In return, we stop by every now and then for a crab tostada and ice cold Coke (or beer.) The restaurant premises look north away from the bay and into the estuary. You can view Yellow and Black Crowned Night Herons as well as the Great Blue Heron, the Green Heron, Brown Pelicans and Grebes. Recently a Common Black-Hawk has been around almost every day and Monday when I stopped by there were at least 15 Snowy Egrets perched in the Mangroves beside the restaurant. It is a lovely spot.
So this week's Bird of the Week is the Common Black-Hawk. This bird is not really common at all and if you are looking to add it to your life list, this is the best spot. According to iBird Pro, it feeds on snakes, frogs, fish, young birds, and land crabs. I think ours might prefer fish. They are nearly all black but have feet and a bill that are bright yellow. In the attached photo you can see the unmistakeable thick white band on the tail. It's a great bird.
Our birding group met last week and did estuaries. We had great birding at the East side of Estero Soldado, pretty good at Miramar but Empalme was a big dud. Strong north winds had driven the birds into the mangroves far from viewing. We did have some wonderful views of the White Pelicans, Caspian Terns, and Long-billed Curlew among others at Estero Soldado.
This Thursday we are going to hit settlement ponds, including one we have not visited. This is the little pond across from Paradiso. The area is being developed and there is a gate but we have been given permission to visit it with our group. In checking it out on Monday, I saw Western Kingbirds and finally, after tons of Female Vermilion Flycatchers, I saw our bright red male as well as some immature males. Our group will meet at 7:30am at Esterito Cafe and end with lunch at La Manga. Anyone interested in birding is welcome to join us. Bring your binoculars, a folding chair if you have one, and bug spray. Hats and sun screen go without saying.
If you have any questions or comments please feel free to contact me: [email protected]
Happy Birding! By Mary Tannehill