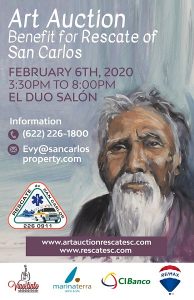 Art Auction with Michael Merrigan for Rescate. 3:30pm – 7:00pm in Duo Salon.
Stay tuned for new date. February 6 has been postponed.
This auction is inspired by the donation from the Merrigan family of Michael's work and other art displayed in his San Carlos home. In addition, several San Carlos residents have added to the collection with their personal donations of works of art. Several San Carlos artists have graciously contributed fine art to this fundraising event for Rescate de San Carlos.
For more information, visit artauctionrescatesc.com.
Attendance at the Rescate Art Auction is by invitation only.
To request an invitation please contact Evy Villarreal Evy@sancarlosproperty.com or call Monday through Friday from 8:00 a.m. to 5:00 p.m. at 622-226-1800.