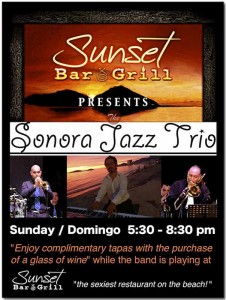 Premiering this Sunday, March 6 at Sunset Bar & Grill … The Sonora Jazz Trio!
A blend of two enticing concepts on the most beautiful beach of San Carlos…from 5:30pm to 8:30pm, come and enjoy this new live music project spearheaded by Omar Arriaga on the piano and bass, and accompanied by master trombonist Alejandro Ramos Sr., as well as his son on trumpet, Alejandro Ramos Jr. They will be performing an ensemble of standard jazz tunes, soft jazz, easy listening, and also a few popular favorites as well.
This style of music meshes wonderfully with Sunset's artistry at sunset time, especially over a nice glass of wine and dinner with friends. To start you off, the chefs would like to offer complimentary tapas with your purchase of a glass of wine while you browse the menu for your main. Relax and savor these inviting tastes and sounds into the night with two feet in the sand at the sexiest restaurant in San Carlos!
First come, first serve. Space is limited; for reservations please call 622-125-7238.